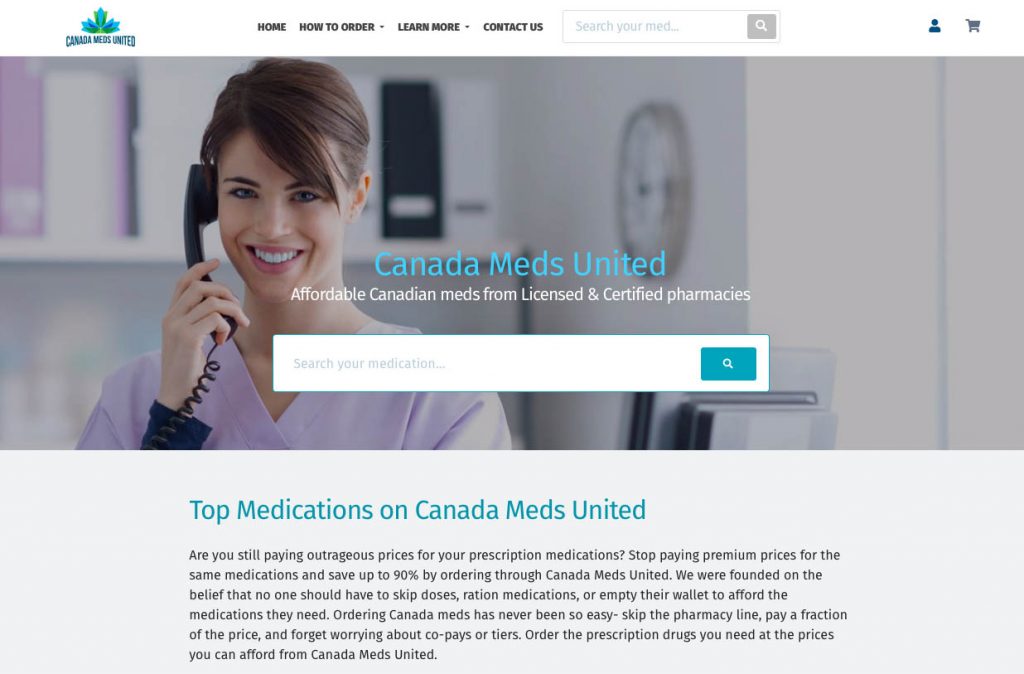 CanadaMedsUnited.com is a pharmacy that promises its medications are affordable, safe, and convenient to order. We take a look at whether the meds being sold by this pharmacy are really as competitively priced as they claim, and whether you should place an order with them.
| | |
| --- | --- |
| Domain Details | |
| Date of Registry | 2018-08-20 |
| Country | Canada |
| Main Details | |
| Drugstore Name | Canada Meds United |
| Address | |
| Regulatory Approvals | |
| LegitScript | Unapproved status |
| CIPA | ✔ |
| Other | ✖ |
| Contact Info | |
| Free Number | +1-877-205-1512 |
| Contact Form | ✔ |
| E-mail | ✔ |
| Shipping Methods | |
| Standard Mail | ✔ |
| Express Delivery | ✔ |
| Free Shipping | ✖ |
| Payment Options | |
| Card | ✔ |
| E-Check or Personal Check | ✖ |
| American Express, Western Union | ✖ |
Domain Name Information
Details in domain records show that this pharmacy has been online since 2018. Since this isn't a long amount of time, it could indicate more problems with this pharmacy.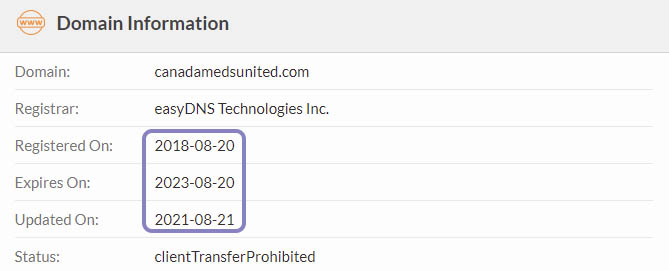 Normally you would expect to find the contact information for the pharmacy included in the database, however, that isn't the case here. Instead, a privacy service has been used to hide this information. Though this doesn't necessarily look very good, it might have been included in the service when the domain was registered.
Business Contact Details
The pharmacy does have a contact address on its website. However, this is only a PO box address in Vancouver, British Columbia, Canada. The problem with this is that we do not know for sure where the pharmacy is operating from.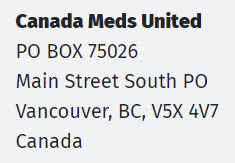 While this does appear to be a Canadian business, since they are using a PO box address we cannot be sure about this.
Regulation
The pharmacy has a couple of seals from Canadian regulatory authorities. These organizations are CIPA and IPABC. When we check with CIPA, we can see that they are an active member of the association.
This means that they operate at a higher standard which would ensure that customers are safe when they make a purchase.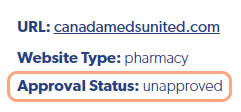 However, when we check with LegitScript we can see that they are not certified. While this might not appear to be very good, it isn't the worst finding the association could give. If there was a big problem with the store they would rate them as a rogue store, but that isn't the case here.
Treatments Available to Customers
The pharmacy offers the range of meds you would expect from a normal drugstore. You can search for the meds you need for the prices they offer. The costs on the store are not the lowest we have seen online, however.
The store allows you to place an order online if you have a valid prescription, but they also have a call center. Being able to order on the phone through their call center makes them seem more legit and might be easier for some customers.

If you do have a prescription, the pharmacy can contact your doctor to obtain it. There is also the option of sending your prescription to them to their PO box address.
While this pharmacy appears to be Canadian, the meds don't only come from that country. They dispense meds to customers from a number of different countries, including the United States, Australia, New Zealand, the United Kingdom, Turkey, India, and Mauritius.
The store does say that the pharmacies they use to dispense medicine are correctly licensed in their countries, though we have no way of proving this. The store says that providing medicine from different countries enables it to lower prices, though it could also increase delivery times.
Payment and Shipping
The pharmacy website is secure, and they guarantee the lowest price. However, the store doesn't give any information about payment options and this might be because you can only place an order on the phone.
If the meds you order are from US pharmacies, you can expect delivery in 3 to 5 business days. If your medicine is being dispensed from other international locations, delivery can take 14 business days.
The store offers a flat fee shipping rate of $14.95 for standard sized packages to the United States. When the pills are coming from Canada, they also offer express shipping so they don't give a price for this service.
CanadaMedsUnited.com Reviews
The pharmacy does have a page for CanadaMedsUnited.com reviews, but they only have a couple of comments. As you might imagine for customer feedback on the pharmacy's own website, they are not negative.
These comments were penned in the same month nearly 3 years ago, which leaves us wondering why they don't have any more recent feedback.
Conclusion
While this pharmacy does have some accreditation, and they also operate a call center, we still have some doubts. The limited amounts of customer feedback they offer is also a slight concern.
While making a purchase from the pharmacy is probably going to be safe, there are many things the store could do to improve.