Looking to save some cash on pricey prescriptions? Online pharmacies are all the rage these days! But as with anything, there are both pros and cons to consider. Fear not; we've got the lowdown on CanadianPharmstore.net. We've got the inside scoop on their overall shopping experience, from their products to regulatory approvals. So, read on to find out whether it is safe or not.
Domain Details
Date of Registry
2022-12-19
Country
United States
Main Details

Drugstore Name
Canadian Pharmacy
Address
✖
Regulatory Approvals
LegitScript
Rogue status
CIPA
✖
Other
✖
Contact Info
Free Number
+1-718-487-9792
+4420-3239-7092
Contact Form
✔
E-mail
✔
Shipping Methods
Standard Mail
✔
Express Delivery
✔
Free Shipping
✔
Payment Options
Card
✔
E-Check or Personal Check
✔
American Express, Western Union
✔
Domain Information
Before we dive into this website review, let's talk about domain name details. Trust us, it's important to know what's up before we go any further. Now, listen up, folks – the domain in question here is Canadianpharmstore.net, and it's a bit of a newbie in the online pharmacy game, having been registered on 19-12-2022.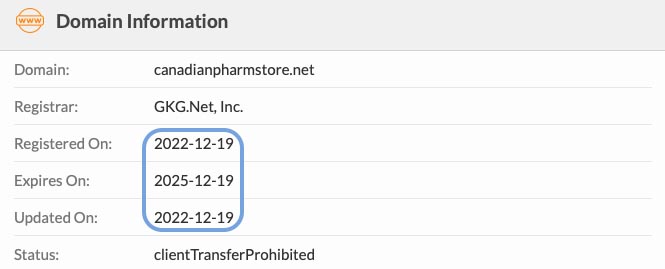 While it's set to expire in 2025, don't let that lull you into a false sense of security. Why, you ask? Because the owner and organization name is being kept under wraps by a privacy service. That said, it could just be a savvy safety measure on Canadianpharmstore.net's part. Intrigued yet? Keep reading to find out more!
Domain registered on: 19-12-2022
Host country: US
Contact: +1-718-487-9792
Business Profile
When it comes to online purchases, it pays to be cautious. That's why we always turn to Scamadviser.com for the lowdown on website trustworthiness. So what's the verdict on Canadianpharmstore.net? Brace yourselves – their trust rating is a measly 32 out of 100!

And if that wasn't enough to make you pause, get this – there are ZERO reviews on Trustpilot.com. That's right, no reviews at all. Red flag, anyone? We're not saying you should run for the hills, but let's just say extreme caution is advised. Keep reading to learn more!
Regulatory Approvals
If you're wondering whether a website is legit, regulatory approvals are your best friend. And when it comes to Canadianpharmstore.net, things aren't looking too hot. For starters, they're not on the CIPA-verified pharmacy list, which is definitely a cause for concern.

And if that wasn't enough to make you raise an eyebrow, we checked them out on the NABP database, and they're not an accredited business! The writing's on the wall, folks – stay away from this one. Keep reading to learn more about why you should steer clear!
Available Products and Pricing
If you're searching for a website that's got it all, you might think Canadianpharmstore.net is the answer to your prayers. They have a wide selection of meds to treat everything from hair loss and depression to more serious conditions like arthritis. But here's the thing – we've got some news that might make you hit the brakes.

Our investigation uncovered that they're offering an excessive discount on most of their medications. First, they do not have required regulatory approvals. Second, they have the same web design and pricing as scam websites. We recommend you not buy anything from this online pharmacy.
Payment Options and Shipping Methods
Once you've selected your items, you'll be taken to a checkout page that's easy peasy to use. And when it comes to payment options, you're in luck – they accept Visa, MasterCard, and American Express (although cash on delivery isn't available). So far, so good, right? But wait, there's more!
They offer two delivery methods: Airmail and EMSCourier. However, they charge extra for discreet packaging.
CanadianPharmstore.net Reviews
When determining the legitimacy of a website, reviews left by real customers are a reliable source of evidence. Unfortunately, Canadianpharmstore.net doesn't have any reviews on Trustpilot.com, which could be a red flag indicating that the pharmacy is not legitimate or struggling to gain customers.

Before making any purchases from their online store, it's essential to do thorough research into the company's history. This can help you identify any potential complaints or concerns that may be related to their business.
Conclusion
We've conducted thorough research on Canadianpharmstore.net to help you make an informed decision about purchasing from them. Our findings lead us to advise against doing so. For starters, their ScamAdviser rating is only 32 out of 100 – not exactly a ringing endorsement. And to make matters worse, neither the NABP nor the CIPA has listed them as a legitimate business. Trust us, there are better options out there!