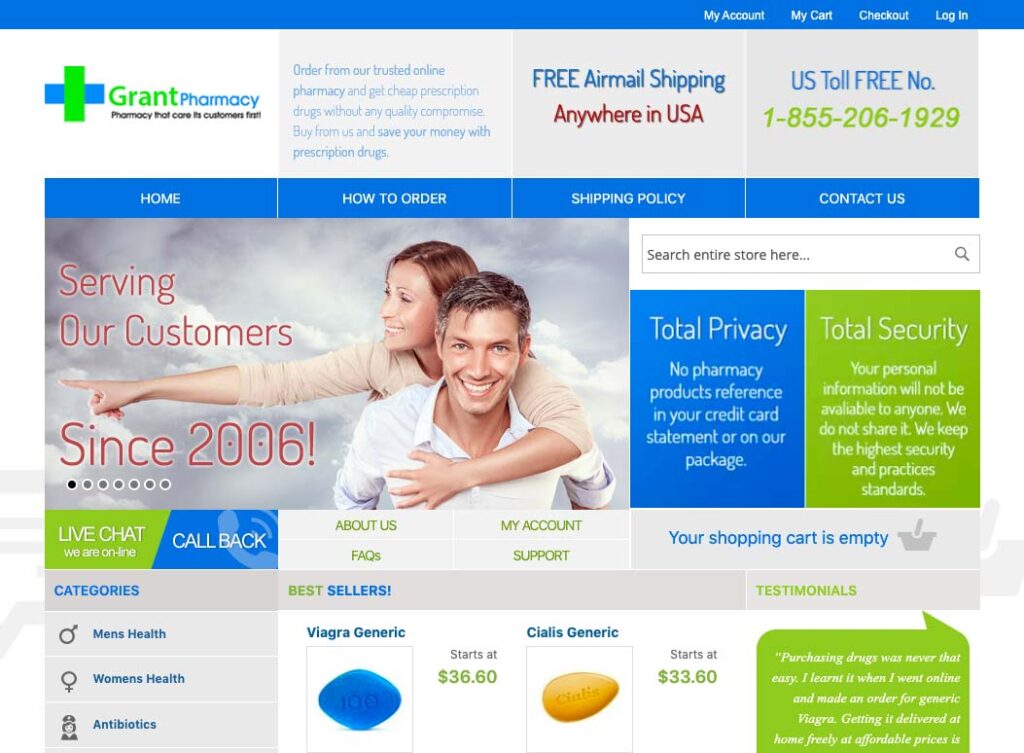 GrantPharmacy.com is an online pharmacy that was supposedly founded in 2006. Its goal includes providing customers with high-quality prescription and over-the-counter branded and generic medications. The online drugstore's medications are allegedly FDA-approved, and the prices are reasonable.
| | |
| --- | --- |
| Domain Details | |
| Date of Registry | 2014-05-28 |
| Country | China |
| Main Details | |
| Drugstore Name | Grant Pharmacy |
| Address | ✖ |
| Regulatory Approvals | |
| LegitScript | Rogue status |
| CIPA | ✖ |
| Other | ✖ |
| Contact Info | |
| Free Number | +1-855-206-1929 |
| Contact Form | ✔ |
| E-mail | ✔ |
| Shipping Methods | |
| Standard Mail | ✔ |
| Express Delivery | ✔ |
| Free Shipping | ✔ |
| Payment Options | |
| Card | ✔ |
| E-Check or Personal Check | ✔ |
| American Express, Western Union | ✖ |
Domain Info
The online drugstore domain was registered on May 28th, 2014, but no information about the registrant is available because it is protected. It was last updated on August 16th, 2022, and will expire on May 27th, 2025 if not renewed. It is tempting to call the business legitimate based solely on this information because of the domain age and registration length.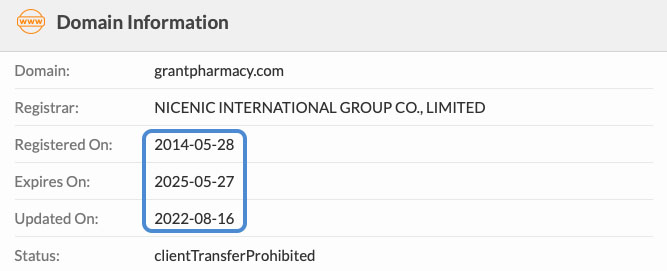 However, things aren't always as they appear, and other criteria must be used to determine the legitimacy of the online drugstore. Nonetheless, the lack of information on the domain owner or registrant is a red flag. Doing business with companies that have protected domain information is not recommended because they are often a scam.
Business Profile
Apart from its name, this company has no business profile. There is no information about the business's location, the owner, or any of its employees. Business anonymity is frequently associated with fraudulent e-commerce stores, and interaction with these online pharmacies is fraught with danger. Because of the lack of a business profile, avoiding online pharmacies is the safest option.

Mirror Website
Mirror websites are meant to reduce global traffic on international websites, but they are frequently used to spread fraudulent activities by scammers. The pharmacy website has two clones that we know of so far. The pharmacy websites are:
pillsfind.com

grantdrugstore.com
The online drugstore, alongside the aforementioned online pharmacies, are replicas of each other. They have identical web interfaces and layouts, company information, content, and even a phone number. The online pharmacy's having clones is an additional reason why it shouldn't be trusted as its intentions are maleficent.
Regulatory Approvals
The presence or absence of regulatory approval is an important metric used to determine the legitimacy or illegitimacy of a business. The online pharmacy is rated "rogue" by LegitScript and it is on the National Association of Boards of Pharmacy's (NABP) "Not Recommended List."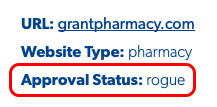 The implication of the business's rating by LegitScript and its absence from NABP's recommended list means that it is unsafe and engages in illegal and misleading activities. The online pharmacy should not be interacted with or health needs to be purchased from the website because of its ratings from these reputable regulatory bodies.
Products and Pricing
The categories of products available on the pharmacy website include:
Men's health
Birth control
Asthma
Cholesterol
Mental illness
The pharmacy e-store promises customers medication at economical rates so they can save and still receive safe and quality medications.
However, the quality of the company's medications is questionable, evident in its unfavorable classifications by regulatory bodies.
Payment Method
There are different payment methods used by the online pharmacy. They are:
Credit or debit card

Bitcoin

Bank transfer

E-Check

Zelle Pay
Shipping Method
There are three shipping methods used by the pharmacy e-store. They include:

Delivery Details
Free airmail: This shipping method is free to anywhere in the US. Delivery time is between 15 and 21 days.
Airmail: This option costs $14.95 for all orders under $90, otherwise it is free. Delivery time ranges between 15 to 21 days.
EMS: This shipping method costs $25 and takes between 10 and 15 days for order delivery.
grantpharmacy.com reviews
The pharmacy website has 23 reviews, all of which are 5-star ratings for the products and services provided by the online pharmacy. The lack of a single negative review or testimonial about the company indicates that they are either manipulated or not genuine.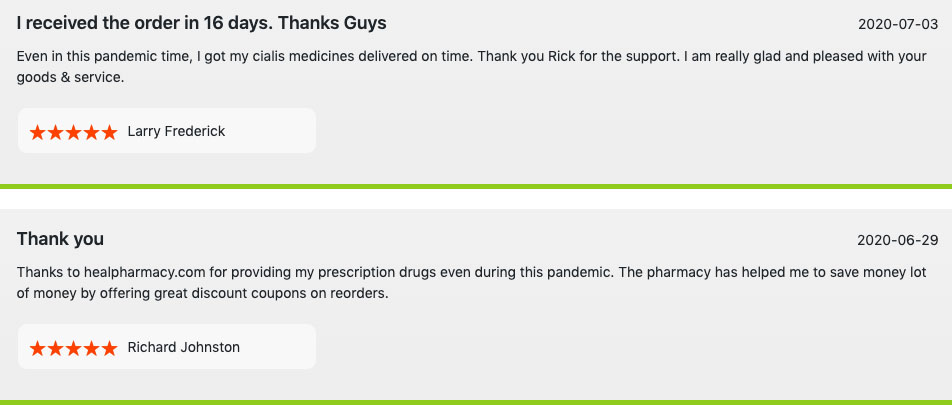 As a result, they shouldn't be trusted or seen as a reason to purchase health medications from the pharmacy website.
Conclusion
The review of this pharmacy e-store took several factors into consideration before reaching a conclusion. There are a lot of indicators pointing towards the business's illegitimacy, which include business and domain anonymity, having mirror websites, rogue rating by LegitScript, and being on NABP's "Not Recommended List." Considering these factors, the pharmacy e-store is deemed a scam.