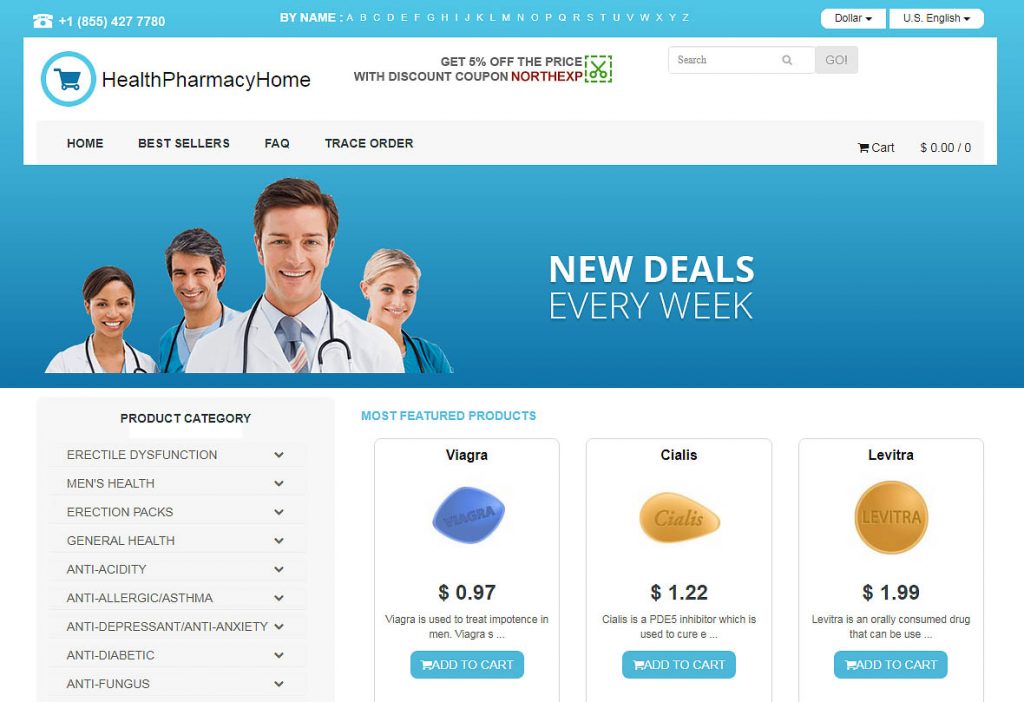 HealthPharmacyHome.com is a site offering generic meds which are claimed to be quality products. They say that they guarantee your satisfaction and provide the best deals. We review what they have available to find that the pharmacy is missing the mark by some margin.
| | |
| --- | --- |
| Domain Details | |
| Date of Registry | 2019-10-04 |
| Country | Unknown |
| Main Details | |
| Drugstore Name | Health Pharmacy Home |
| Address | Unknown |
| Regulatory Approvals | |
| LegitScript | Rogue status |
| CIPA | ✖ |
| Other | ✖ |
| Contact Info | |
| Free Number | +1-855-427-7780 |
| Contact Form | ✔ |
| E-mail | ✖ |
| Shipping Methods | |
| Standard Mail | ✔ |
| Express Delivery | ✔ |
| Free Shipping | ✔ |
| Payment Options | |
| Card | ✔ |
| E-Check or Personal Check | ✖ |
| American Express, Western Union | ✖ |
Domain Name Information
The details of the domain name registration shows to us that they haven't been in business for long. This is something frequently discovered with scam pharmacies, so this store following the same pattern isn't good.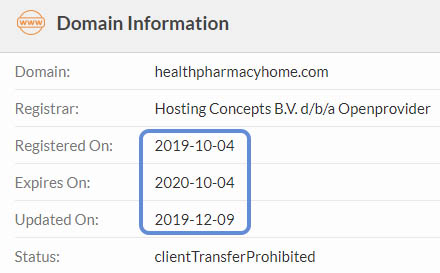 There is some information about who owns the domain found in the records. This is fairly good as more often than not scam drugstores use domain privacy to hide this sort of information.
However, the information shows to us that they are a business called "Zhuhai Yingxun Keji Limited" which are located in Guangdong Province, China, and this isn't so great.
Business Contact Information
Despite the business details found in the domain name records, the site lacks the same business name or address. In fact, they don't give any information about who owns the store or where they are located.
We are left with the assumption that they are, as the domain records state, a business based in China. This isn't good since a large number of fake meds originate from that country, like so many other counterfeit products.
Regulatory Approvals
There isn't much to suggest that this pharmacy is operating their business by following the high standards of a regulatory association. This would make sure customers had more protection when using the store and a lack of this is a concern.

Our assessment of the situation is mirrored by the findings from LegitScript. They have looked at the store and drawn the conclusion that they aren't operating with the correct regulatory approvals. This means that they are violating the law for where they sell their drugs. This is the reason for their rogue classification which is the lowest available to them.
Medications Sold
They offer a reasonable range of products, nowhere near as many as you would expect from your local pharmacy store, however. Their bestselling items seem to be the men's health pills.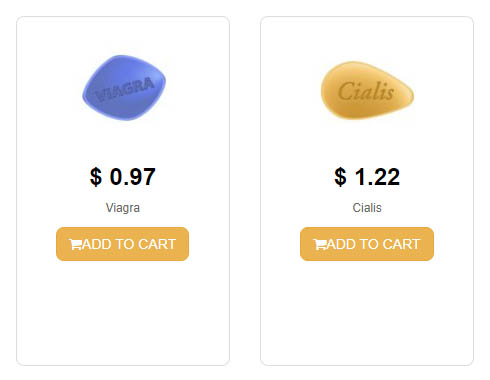 The site uses brand names heavily on the site, but they actually only sell generics. This is a very deceptive practice and will make many customers think they are buying genuine brand name pills when they are only getting generics.
Further problems can be found with the lack of any information about who has produced the pill or where they are dispensed from. This could show that the pills are actually low-quality counterfeit drugs, which won't be a massive surprise given the link to China.
Prescription Requirements
They don't worry if you have a valid prescription to accompany your order or not. This means that you could very easily get yourself into trouble by ordering drugs that are not suitable for you or don't mix well with some other meds you are taking.
Payment and Shipping
The pharmacy's checkout pages are secure and they will take payment via:
Visa
Mastercard
Diners Club
AmEx
JCB
The pharmacy offers you a choice from airmail which will take around 7 to 12 days to arrive and express courier which is said to be a 2 or 3 day service. Airmail will cost you $14.95 and express courier costs $29.95. The delivery times they claim on the site seem to be rather over-optimistic and we believe that you would be waiting longer for your pills from this pharmacy.

HealthPharmacyHome.com Reviews
It is difficult to locate any HealthPharmacyHome.com reviews on independent sites. They don't have any on their own site either and this isn't a massive surprise given how recent the pharmacy was created.

Conclusion
They are operated by a Chinese business, though they don't mention that on their site and they have no regulation. They also don't want to tell their customers where the drugs are dispensed from and it seems most likely that their products aren't of good quality.
If you decide to put your trust in this pharmacy you could be in for some problems. There are far better pharmacies online than this, steer clear.