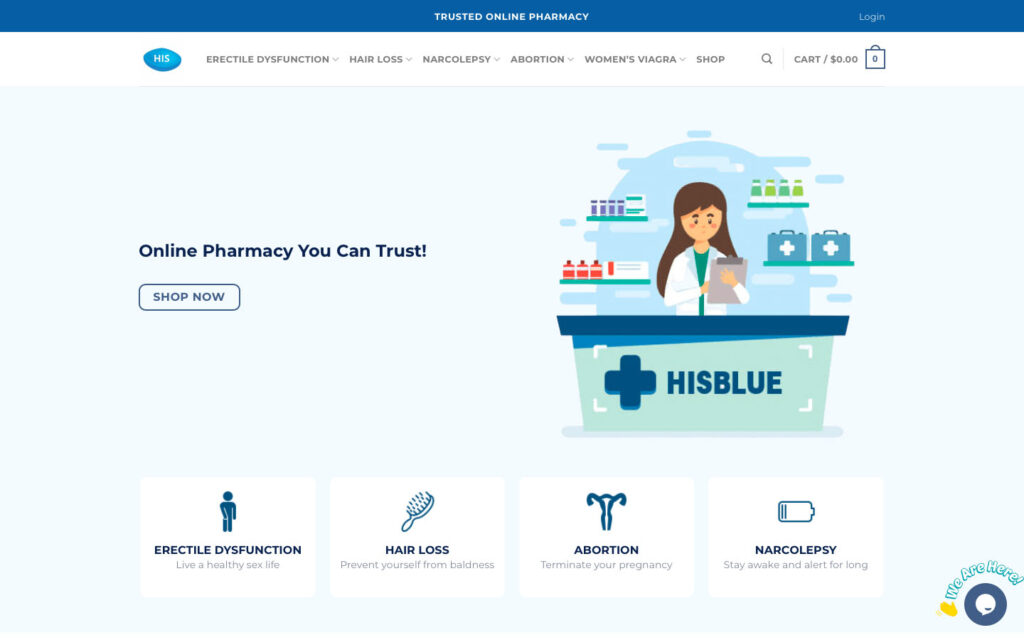 Are you tired of the stress of buying medication from traditional pharmacies? Look no further than HisBlue.com! This online pharmacy connects clients with the most reliable and safe global providers of both generic and name-brand medications in the world, giving you peace of mind and convenience. But are they as safe and legit as they claim to be? This thorough analysis will dive deep into Hisblue.com to uncover its merits and shortcomings. You won't want to miss it! Is hisblue.com a scam or legit? Let's find out.
Domain Details
Date of Registry
2019-07-27
Country
Sweden
Main Details

Drugstore Name
His Blue
Address
no
Regulatory Approvals
LegitScript
Rogue status
CIPA
✖
Other
✖
Contact Info
Free Number
+1-432-538-1250
+1-609-401-2396
Contact Form
✔
E-mail
✔
Shipping Methods
Standard Mail
✔
Express Delivery
✔
Free Shipping
✔
Payment Options
Card
✔
E-Check or Personal Check
✖
American Express, Western Union
✖
Domain Information
Are you considering purchasing medication from a new online pharmacy but have concerns about its legitimacy? It's important to do your research and check the domain name database before making any decisions. In the case of this particular pharmacy, the address was only registered on 27-07-2019, which may raise some red flags.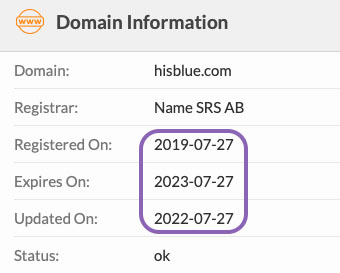 Additionally, the domain was last updated on 27-07-2022 and is set to expire on 27-07-2023. While this isn't necessarily suspicious, it could suggest that the pharmacy is not established and may not have a long-term commitment to its customers.
One other factor to consider is that the registrant's details are hidden through a privacy protection service based in Sweden. While this is not inherently suspicious, it may not inspire confidence in potential customers.
Despite these concerns, it's important to keep an open mind and gather as much information as possible before making any decisions. While the lack of history and transparency may be the reason for caution, it's also possible that this pharmacy is simply new and trying to establish itself in the market.
Business Profile
It's important to do your research and check for any red flags, such as a lack of transparency regarding the pharmacy's location and contact details.

Unfortunately, in the case of this pharmacy, their website does not provide an address or clear business contact details, which raises concerns about their legitimacy.
Without this information, verifying the pharmacy's location and ensuring that they are a legitimate business is difficult.
However, we found an address for this pharmacy on another website, but it turned out to be a mail-forwarding service located in Hawthorne, California. This suggests that the pharmacy may not actually be based at this address, further adding to the confusion and raising questions about their legitimacy. A major red flag is that they are not available on Trustpilot.com. So, we cannot check what customers say about them.
Organization name: Hidden
Address provided: No
Phone number: No
Regulatory Approvals
With no regulatory seals in sight on their website, it's hard to verify if this pharmacy is following the law. As their location remains a mystery, we cannot confirm what regulatory approvals they should have.
However, if they are based in the US, they should be registered with the National Association of Boards of Pharmacy, and display regulatory seals, which they don't. This makes us question their legitimacy even more.

A search for this pharmacy on LegitScript reveals a disturbing truth. The rating given to them is "rogue", implying that they are not properly accredited and are probably running a scam. Don't fall for their tricks – stay vigilant and protect yourself.
Available Products and Pricing
Hisblue.com provides a wide variety of medications. Their range is limited to men's health, women's health, hair loss, and narcolepsy medications. You can find men's related medication discounts on Hisblue.com.

However, when it comes to the products they do offer, this online pharmacy provides a lot of information to its customers. But there are a few details that are missing, such as the manufacturer of their generic drugs and where exactly the medicines are dispensed from. They claim to have distribution centers in the US, India, and Singapore, but this lack of detail could pose a risk to your health. You could be getting pills that don't contain the ingredients you expect, and that's a real danger. Don't take any chances with your health; read on for more details in our thorough analysis of Hisblue.com.
Payments and Shipping Methods
Secure your order and pay with ease through multiple options such as credit cards, debit cards, or PayPal, as this pharmacy guarantees the protection of your personal and financial information with a valid SSL certificate. However, before you finalize your purchase, note that shipping comes with a $30 flat rate fee. But don't worry; if your total order exceeds $150, you can say goodbye to this fee.
Keep in mind that delivery times may vary depending on your location and which distribution center is used. If you're lucky, your meds may arrive in as little as 5 days, but don't be surprised if you find yourself waiting for 3 or 4 weeks instead. So, before you decide to order, consider the potential delay and make sure you plan accordingly.
HisBlue.com Reviews
Hisblue.com has a section for customer feedback on their website, but there are doubts about the authenticity of these reviews. What's more, these reviews have been removed from Trustpilot.com, and it could be due to violations of the platform's policies. Given these circumstances, it is best to steer clear of this pharmacy as it may not be a reliable source for your medication needs. Trust your instincts and look for other legitimate sources to ensure your safety and well-being.
Conclusion
After a thorough investigation, we have discovered some alarming red flags that cannot be ignored. From lack of accreditation to mysterious ownership and reports of fake medicines, it's clear that this pharmacy isn't all it claims to be. Therefore, we don't recommend this pharmacy. When it comes to your health and well-being, choosing a trustworthy pharmacy is essential. With so many better options available, it's best to steer clear of this one.