LetsGoPharm.com is a pharmacy claiming to have had over a million customers and offer quality products. We have seen many claims like these previously, and that normally isn't a good thing. When we look at this pharmacy, we find a lot of things that are concerning.
Domain Details
Date of Registry
2021-02-08
Country
Great Britain
Main Details

Drugstore Name
Happy Family Store
Address
✖
Regulatory Approvals
LegitScript
Rogue status
CIPA
✖
Other
✖
Contact Info
Free Number
+1-888-243-7406
+44-800-041-8744
Contact Form
✔
E-mail
✔
Shipping Methods
Standard Mail
✔
Express Delivery
✔
Free Shipping
✔
Payment Options
Card
✔
E-Check or Personal Check
✖
American Express, Western Union
✖
Domain Name Information
There is a greater risk that any pharmacy that hasn't been in business for very long is more likely to be a scam. This drugstore has only been online since early last year, so this isn't a good sign.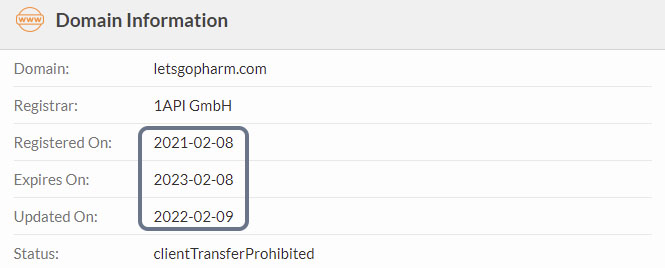 We also don't learn who owns this pharmacy from the information in the database. The owner of the pharmacy has chosen to use a privacy service to hide their information. While this looks very suspicious, there may be a simple and innocent explanation.
Business Profile
The business name Canadian Pharmacy Ltd. is used on the website, and they clearly want you to think that this drugstore is located in Canada. However, we don't think this is really where this business is based.
We have seen the business name Canadian Pharmacy Ltd. previously and it's always associated with scam pharmacies. This isn't a real business, and it's just designed to make it sound like it is a pharmacy you can trust.
There also isn't an address given for this pharmacy on the website, further adding to the chances of this drugstore being a scam.
Mirror Pharmacies
Not only have we seen the business name they're using previously, but we've also seen the exact site before as well. This same pharmacy template has been uploaded many times using different domain names.
These other drugstores are exactly the same as this one; using the same graphics, selling the same products, and making the same claims. Mirror versions of this pharmacy include:
Finding mirror stores like this isn't good, and almost guarantees that we are looking at a scam.
Regulatory Approval
We are unable to find any regulatory seals on the website indicating they have the correct approval to be in business. They don't have any accreditation for a Canadian business or a business based anywhere else.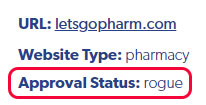 LegitScript confirms our suspicions that this drugstore is unreliable. They have looked at the store, and give them a rating of rogue.
This shows that they do not have the legal authority to be selling meds online.
Pills Sold
The store says that they sell both brand and generic pills. Prices on the store are quite low, though this isn't necessarily a good thing.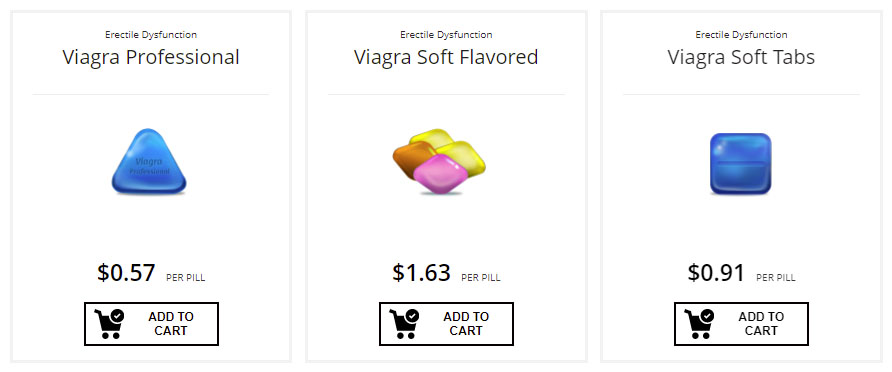 While the store does try to give customers a lot of information about the pills being sold, they miss out on some very important details.
We aren't told where the meds are dispensed from or which company has manufactured the pills being sold. Not knowing this information means there is a larger chance that the drugs aren't high-quality.
Payment and Shipping
Payment occurs on a different website that does have some security, and you can choose between the following transaction types:
Visa

MasterCard

Bitcoin

SEPA
There are two options for delivery either airmail or EMS. If you need your meds quickly, EMS should get the package to you in 3 to 8 days and includes tracking at a cost of $29.95. Airmail could take 3 weeks to arrive, and the cost is $12.95.
They will give you free shipping through either method when you spend more than $200 on the pills they sell.
LetsGoPharm.com Reviews
The store has LetsGoPharm.com reviews on their testimonials page, but like the rest of the site, this is a copy. These are not genuine testimonials that relate to this pharmacy and were probably made up a long time ago.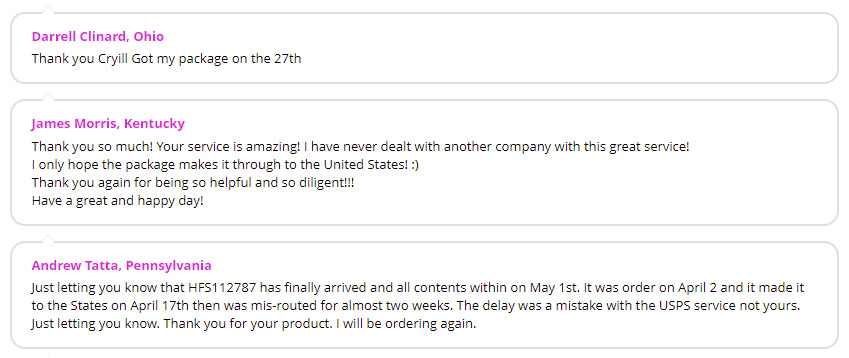 Using fake customer feedback is a way to encourage people to trust the store and make a purchase. This is something frequently found with scam pharmacies and shouldn't be believed.
Conclusion
This pharmacy is a mirror of many others, we don't know who is operating this store, and we don't know where the meds come from. This means that there is a good chance that medicines sold by them are low-quality which could harm your health.
We do not recommend you purchase from this drugstore.