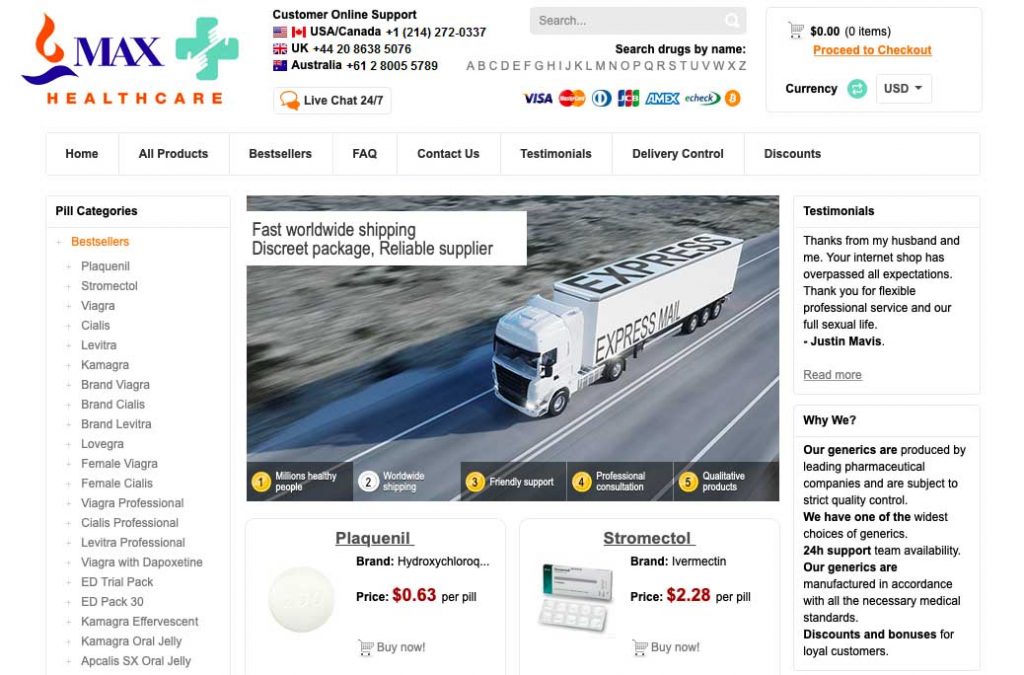 Max-HealthcareRx.com is a medical provider that claims professionalism and to be supplying millions of customers. Our look at their service places these claims in total doubt.
Domain Details
Date of Registry
2020-06-01
Country
Germany
Main Details

Drugstore Name
Max Healthcare
Address
✖
Regulatory Approvals
LegitScript
Rogue status
CIPA
✖
Other
✖
Contact Info
Free Number
+1-214-272-0337
+4420-8638-5076
Contact Form
✔
E-mail
✔
Shipping Methods
Standard Mail
✔
Express Delivery
✔
Free Shipping
✖
Payment Options
Card
✔
E-Check or Personal Check
✖
American Express, Western Union
✖
Domain Name Information
This pharmacy's website address was registered in 2020, and this is at odds with the information on the site. There they claim to have been in business since 2010, and this discrepancy makes them seem more like a scam. Also, businesses that haven't been online for very long are less likely to be reputable in our experience.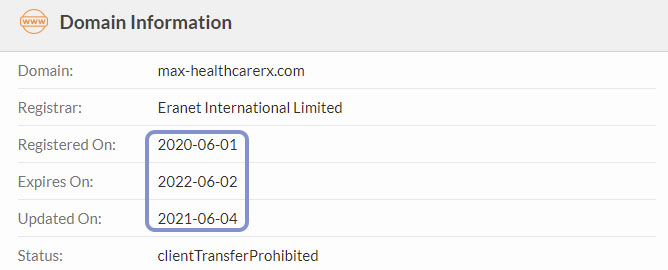 There is little information about who owns this website in the record as well. Here we are told the owner is located in Bayern, Germany.
Business Profile
The pharmacy name "Max Health Care" is given on the website, but they don't give an address. As we have previously noted that this pharmacy claims to have been in business for 12 years, but this seems unlikely.
Though their website does look very old in fairness, it is difficult to imagine that this pharmacy has been in business for as long as they claim.
Regulatory Approvals
Despite this drugstore not giving us an address on their website, the owner appears to be located in Germany. Since Germany is an EU country, any pharmacy-based there has to follow the EU common distance selling regulations. It is very obvious that this pharmacy isn't following those rules.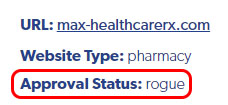 They should have the common distance selling logo on their website where they are selling the meds, and they aren't. This would appear to suggest this pharmacy is operating illegally.
Checking with LegitScript indicates that they don't have a very good opinion of this pharmacy. They rate the business as a rogue operation lacking the correct accreditation they require to sell medication online.
Meds Available
The pharmacy mostly seems to be selling generic medicines, but there are some brands there as well. Prices seem to be quite low, but there are some issues with the lack of information provided on the site.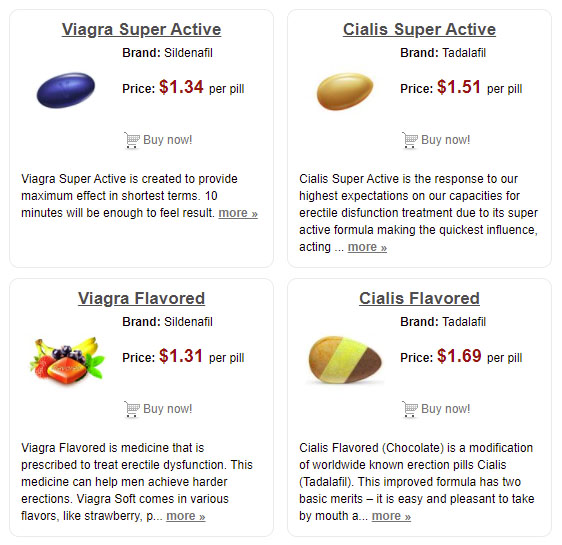 The website does not enlighten us as to where these medicines are dispensed from. Buying pills from an anonymous source isn't a good idea for obvious reasons. If the pharmacy doesn't want you to know where they are located, how trustworthy can they really be?
If you do want to make a purchase with this pharmacy, the treatment options include:
Herbal products

Cholesterol treatments

Pain relief

Men's health
Since the pharmacy doesn't want to tell us where are they are dispensing the pills from, we can't be sure if the meds are high-quality. This dramatically increases the risks with this pharmacy and could mean that the medication sold isn't even safe to use.
Counterfeit Risk
While the store does offer some brand-name pills, we can't be certain these are genuine products. If you get them the packaging might look correct, but this isn't any guarantee that the product is genuine.
You might hope that by spending more on the brand name product you'll get better and more reliable treatment, but this isn't going to be the case if they are counterfeit. The pills could contain incorrect ingredients or the wrong amounts of ingredients, but either way, the effects could be very serious to the patient.
Payment Options
When we tried to pay for the pills from this pharmacy, we ran into quite a significant problem. We were blocked from visiting their payment gateway due to an error with their SSL certificate. This is a serious problem and could mean that payment details entered on the site are compromised.
Shipping
Shipping options are a choice between airmail and EMS. EMS is the faster option costing $29.95 and taking between 3 and 9 business days to arrive with you. Airmail is going to cost you $9.95 with an expected delivery time of up to 3 business weeks. The pharmacy also charge tries to charge you deliver insurance costing $3.95 though you can opt-out.
Max-HealthcareRx.com Reviews
The pharmacy does contain a testimonials page with a handful of Max-HealthcareRx.com reviews. While this feedback looks very positive for the pharmacy, we doubt they are genuine.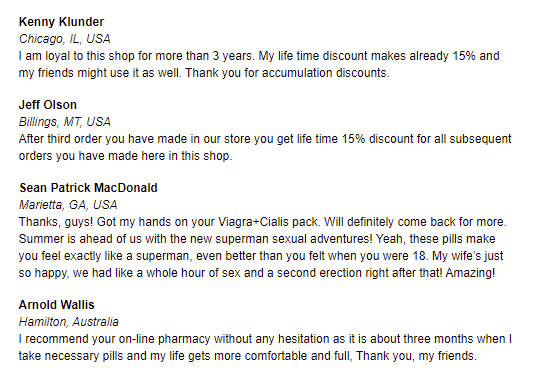 The comments seem overly positive and look more like marketing than genuine feedback. For example, there are repeated mentions of discounts available to customers. This is not what you would expect from genuine comments.
Conclusion
There are many problems with this drugstore that indicates to us they are a scam. We only give them a low rating because they lack accreditation, almost any transparency, and we doubt the quality of the pills too.
There are far too many issues to bother with this drugstore.