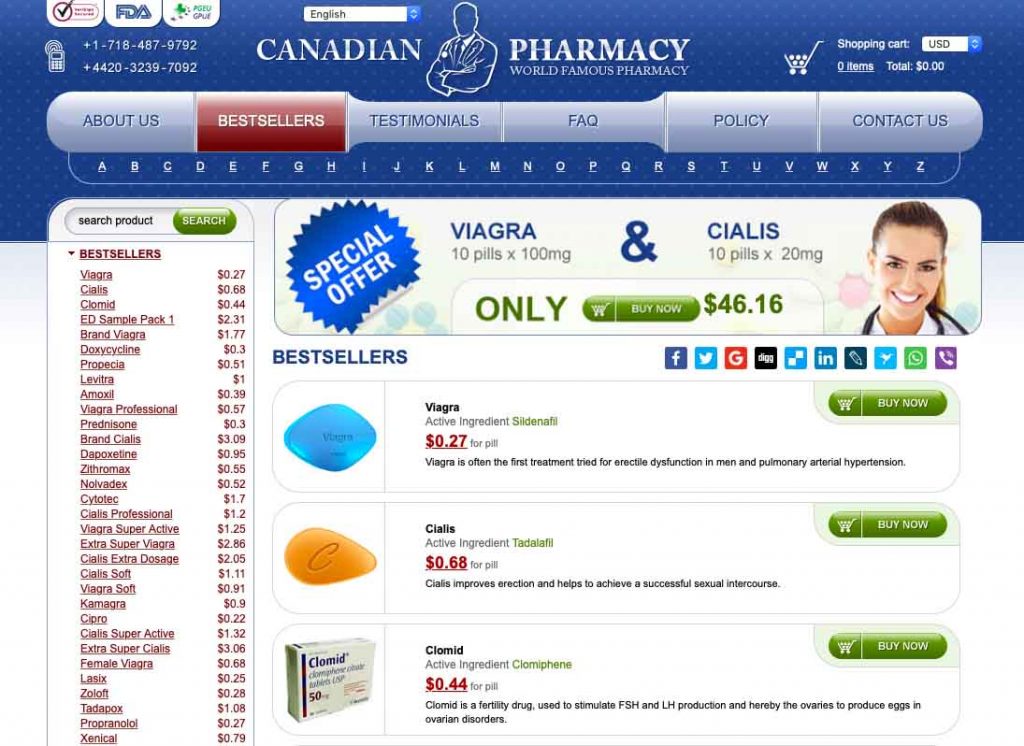 Med24x.com claims to be a world-famous Canadian pharmacy. They are selling low-cost pills but what should they be trusted? We look at what they have to offer, but it doesn't look very good and could be dangerous for customers.
Domain Details
Date of Registry
2021-11-22
Country
Russia
Main Details

Drugstore Name
Canadian Pharmacy
Address
✖
Regulatory Approvals
LegitScript
Not in the database
CIPA
✖
Other
✖
Contact Info
Free Number
+1-718-487-9792
+44-203-239-7092
Contact Form
✔
E-mail
✔
Shipping Methods
Standard Mail
✔
Express Delivery
✔
Free Shipping
✔
Payment Options
Card
✔
E-Check or Personal Check
✖
American Express, Western Union
✖
Domain Name Information
This pharmacy hasn't been in business for very long, and we know that by looking in the domain name records. This reveals to us that they were only registered in November 2021, and increases the chances that they are in fact a scam.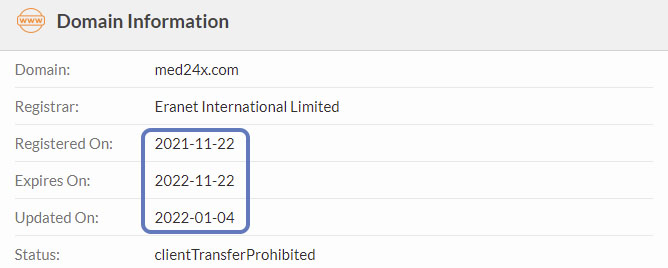 There is some contact information in the database, but it only tells us the owner of the website is in Moscow, Russia.
Business Profile
The pharmacy tells us that they are a Canadian pharmacy and they use the business name Canadian Pharmacy Ltd. The store does not, however, give their business address.

As we have previously shown, the owner of this website appears to be in Russia, so how can this store really be a Canadian pharmacy? The chances are that this isn't really the Canadian pharmacy it pretends to be, and they are only using Canada as a way of pretending that this pharmacy isn't a scam.
Regulatory Approval
The pharmacy says that it is licensed with an international license number issued in August 2021. There are a couple of problems wrong with this.

As we have previously shown, the domain name for this pharmacy was registered in November 2021. And while it is possible that they were licensed before registering the domain, it seems unlikely.
The other rather large problem with this claim is that there isn't any such thing as an international pharmacy license. Most countries have their individual rules and standards for pharmacy dispensing, and so you cannot have any international licenses. This pharmacy's claim of being licensed is fake, as are their claims of being Canadian.
Mirror Drugstores
This isn't the first time we have seen a pharmacy that looks exactly like this one. This is a mirror of many other drugstores, and the others were scams so it doesn't look good for this one.
Other identical stores include:
fastrxcenter.com

world-pharm.com
Medication Available
The pharmacy is selling cheap generic medications that are likely to be dispatched from India and not Canada as you might assume. They don't say where the medicines are dispensed from, increasing the risk to customers who put their trust in the medicine supplied from this store.
Treatments available in the pharmacy include:
Men's health

Hair loss

Pain relief

Quit smoking
On top of not knowing where they dispense these medicines, we do not know who the manufacturer is for the generic pills sold.
This increases the chances that the medicines sold in this pharmacy you actually low-quality that may not contain the active ingredients you need them to.
Payment Methods
Medication payment occurs on a different website that is secure. However, they will try to charge you extra for discrete packaging and insurance that will cost you nearly another $11 on top of your order. Fortunately, you are able to opt out of these extra and probably unrequired costs.
Payment can be made using major credit cards.
Shipping Options
You are given two options for delivery when ordering from this store. Airmail costs $9.95 with an expected 2 or 3 week delivery window. The other option is EMS that is going to cost $19.95 and take 3 to 8 business days.
If you order more than $200 you'll get free airmail, and $300 gives you free EMS from this pharmacy.
Med24x.com Reviews
There is a testimonials page that contains a lot of Med24x.com reviews. However, we do not believe that these are genuine customer comments. We have seen very similar comments before, and a pharmacy that is as new as this one is will be very unlikely to have many genuine testimonials.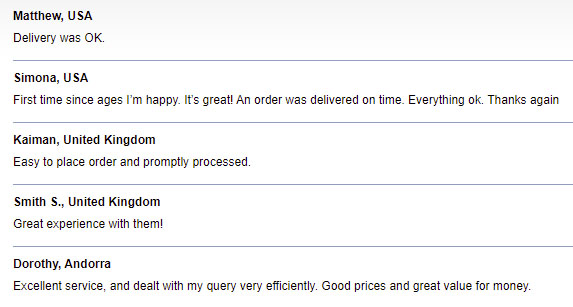 Any pharmacy that has chosen to resort to fake feedback is not very likely to be anything other than a scam.
Conclusion
As you can see there are many problems with this pharmacy that should put you off the idea of making a purchase. They are lying about many things like their accreditation and their customer feedback, as well as being one of many mirror drugstores.
We don't know if this pharmacy would provide reliable medicines, so we don't recommend you use them.