The US FDA has been warning people about buying medicines from online pharmacies. Some websites claim to be Canadian pharmacies but they operate in different parts of the globe. These pharmacies sell medicines at a lower price and claim that the medicines are made by trusted manufacturers. Many online pharmacies operate with licenses and quality medicines. But MedsOffering.com is not one of them. After reviewing its domain, business profile, and other details, we are sure that medsoffering.com is a scam.
Domain Details
Date of Registry
2022-04-07
Country
Russia
Main Details

Drugstore Name
Canadian Pharmacy
Address
✖
Regulatory Approvals
LegitScript
Rogue status
CIPA
✖
Other
✖
Contact Info
Free Number
+1-214-272-0337
+4420-8638-5076
Contact Form
✔
E-mail
✔
Shipping Methods
Standard Mail
✔
Express Delivery
✔
Free Shipping
✔
Payment Options
Card
✔
E-Check or Personal Check
✖
American Express, Western Union
✔
Domain Information
The website was registered last April 7, 2022, and only registered for a year. The registrant, administrative, and technical contacts are all hidden and should be requested if the details are needed.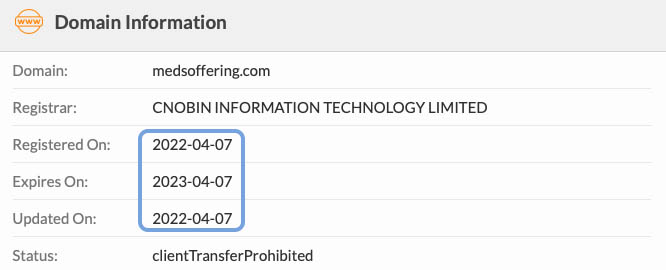 According to the website, it is a Canadian pharmacy. But upon checking the domain, it was registered from Russia which is a high-risk country. Russia has been recognized by the International Banking Federation as a country with high levels of fraud and corruption.
The website registrar has also been identified with a high percentage of scammers and fake websites.
Related Domains
There are no related websites to medsoffering.com maybe because it is still new or it was registered from a different country.

According to Tranco, it has a very low number of website visitors. It is normal for newly registered websites. Once it is proven to be a scam, it will only take months to turn down the website.
It uses a valid SSL certificate, but this is already common to scammers to make their website look legit. Usually, scammers install a free SSL certificate on their websites.
Business Profile
According to the website, it is a Canadian online pharmacy that provides cheaper medicines and does not require a prescription for prescription-only medicines.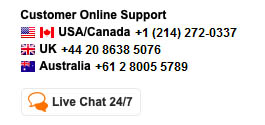 Ordering from this website can be done through calls, online checkout, and fax. Their employees are knowledgeable pharmacists and technicians that can assist every patient 24/7.
Before you can get your medicines online, you are required to create an account that may include your personal and other financial details which may be used in unauthorized financial transactions.
Regulatory Licenses and Authenticity
Since medsoffering.com shows that it is a Canadian website, it should be recognized by the Certified Canadian International Pharmacy. However, there are only a few websites that are certified by CIPA, and medsoffering.com is not one of them. Before an online pharmacy is certified by CIPA, it must pass the regulatory requirements set by authorities that provide pharmacy licensure.

Also, the website is not recommended by the National Association of the Board of Pharmacy. The medicines sold from the website may be cheap but since it is not recognized by NABP, the medicines might be manufactured as substandard or did not pass regulatory requirements.
Products
Medsoffering.com offers medicines for different illnesses. Most of the medicines on this website are almost the same as what can be bought from a traditional pharmacy. However, the pharmacy's best sellers are usually for: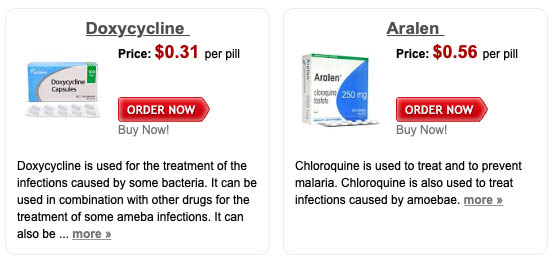 Men's health

Anti-diarrhea

Anti-allergy

Antibiotics

Anti-depressants

Ventolin inhalers, etc.
All of the medicines come in their generic form which is cheaper than branded since they did not undergo branding, advertisements, and developments but these drugs work as effectively as branded ones.
If the customer was not able to find the medicines they need, they can contact customer service to list them on the website.
Pricing, Payments, and Deliveries
Since the website offers generic medicines, it costs lower than those which are sold in regular pharmacies.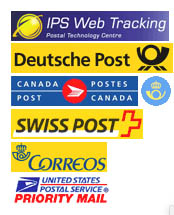 Once you have completed your order, you just need to check out the medicines from your basket. You will be asked to enter your credit card details to proceed with the payment. Credit cards that can be used in purchasing medicines are Visa, American Express, JCB, Diners, and MasterCard.
Deliveries are done through registered mail which takes 14-21 days. Its delivery rate starts at $9.95 but can be waived if your order is worth $200. It can also be done through EMS shipping which takes 3-9 days and costs $29.95, but there are no free shipping fees if the customer would like the medicines to be delivered through this courier.
Reviews and Testimonials
The website has a page for customers who would like to provide a review of the online pharmacy. Most of the people who posted a review are from the UK and the USA. The testimonials posted are about the effectiveness of the pills, discounts, and savings. We are not sure that you can trust them.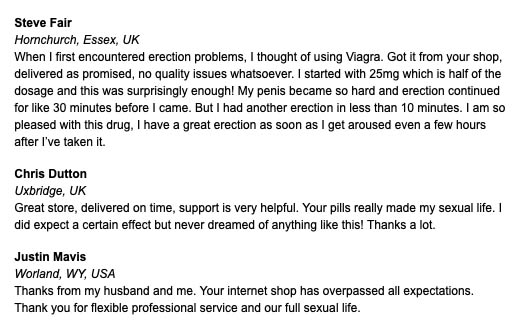 Conclusion
Though the online pharmacy has a lot of reviews, we cannot tell if these are actually from their previous clients. The website is sketchy since it is declared as a Canadian pharmacy, but the location of the domain registrant is from a high-risk country.