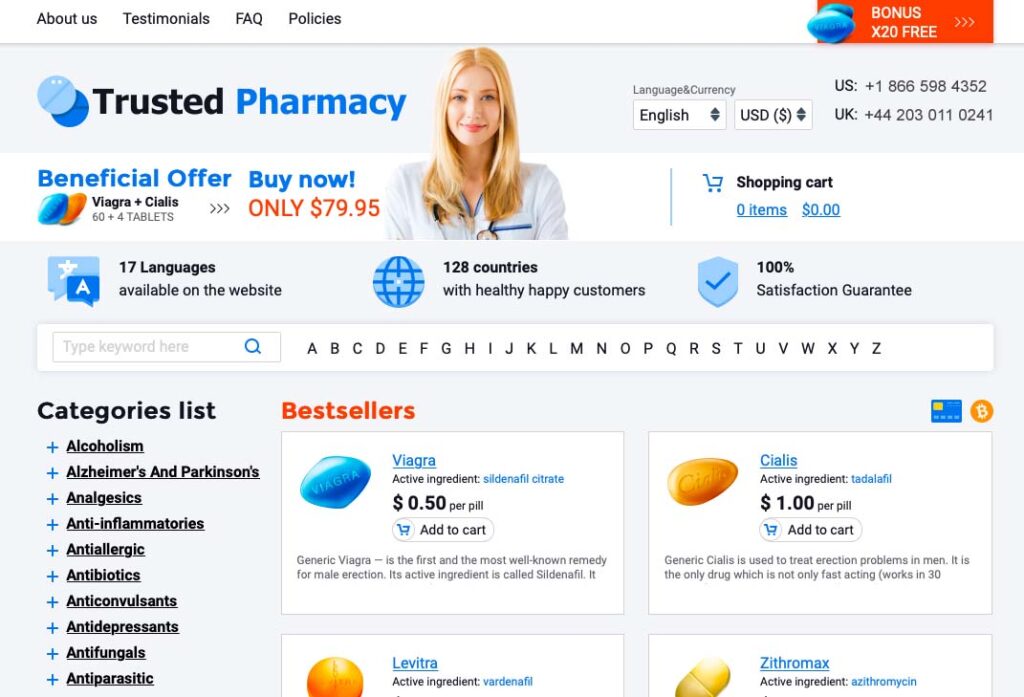 Online shopping has been on fire lately and you can purchase nearly everything from an online store nowadays. Similarly, Online pharmacies are a great way to get medications at home without you having to go there physically. MyMedicineOnlineShop24.com is one of such pharmacies that claim to offer high-quality medicines at affordable prices however, do they hold up to their promise? Leave it to us, we have reviewed them for you. Read till the end of the article to find out whether you should order from them!
Domain Details
Date of Registry
2017-03-17
Country
Seychelles
Main Details

Drugstore Name
Trusted Pharmacy
Address
✖
Regulatory Approvals
LegitScript
Rogue status
CIPA
✖
Other
✖
Contact Info
Free Number
+1-866-598-4352
+44-203-011-0241
Contact Form
✔
E-mail
✔
Shipping Methods
Standard Mail
✔
Express Delivery
✔
Free Shipping
✔
Payment Options
Card
✔
E-Check or Personal Check
✖
American Express, Western Union
✖
Domain Info
Before going into further details, let us discuss a few domain details. Here are a few details about mymedicineonlineshop24.com:
The domain mymedicineonlineshop24.com was registered on 17-03- 2017 which means the website has been online for 5 years.
Along with that, the domain registration is supposed to be expired on 16-03-2023.
The domain was most recently updated on 01-07-2022
The domain mymedicineonlineshop24.com is registered in the name of Nicenic international group Co. limited. However, the

recent status of the website has changed

to Client Transfer Prohibited after it was reported as a scam by NABP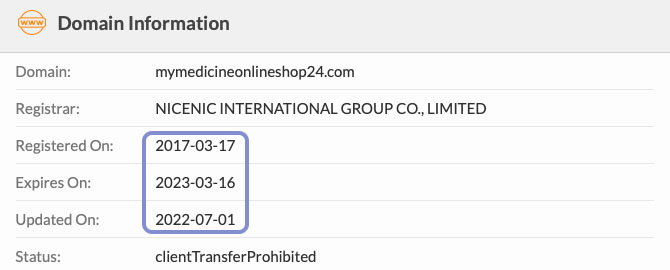 Business Profile
Considering the business profile of the website, mymedicineonlineshop24.com is a scam. Scamadviser has given them a trust rating of 1 out of 100, which makes it unsafe for businesses and purchasing any products. In addition to that, they have not added any address on their website or in their domain details so there is no way you can reach out to them physically.

On top of that, we did not find any reviews about mymedicineonlineshop24.com anywhere on the internet which we think is a bad sign for a website that has been in business for over five years.
Regulatory Approvals
Since the domain mymedicineonlineshop24.com is registered in Victoria, for regulatory approvals, we ran the website through NABP which deemed the website as Not recommended, a final nail in the coffin.

In addition to that, we checked the website of LegitScript, and as expected the website is considered to be rogue which further proves that mymedicineonlineshop24.com might be a scam.
Products and Pricing
Mymedicineonlineshop24.com sells various medications from various families, such as:

Alcoholism

Alzheimer's and Parkinson's

Heart diseases

Cholesterol

Diabetes

Eye care

Hypertension

Men's health
Along with that, mymedicineonlineshop24.com offers all these medications in multiple formulations, which are liquid injections, capsules, tablets, and pre-filled syringes.
Payment and Shipping Methods
The prices on mymedicineonlineshop24.com are lower as compared to the market prices which seems like a classic hook for scamming people. Once you have added the products to your cart, you will be taken to the payment page where you can choose the shipping type. mymedicineonlineshop24.com offers two types of shipping; standard airmail and trackable shipping, both of which cost extra.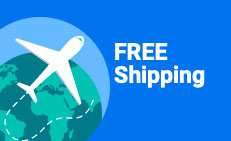 Once you have chosen the shipping type, you will be to the payment page where you can pay either by using your card or through bitcoin. Nonetheless, mymedicineonlineshop24.com has not added any physical address where you can reach out to them or any refund policies which makes it seem like a scam.
On top of that, mymedicineonlineshop24.com is registered in Victoria under a private and their Whois information is hidden which further confirms our suspicion.
MyMedicineOnlineShop24.com Reviews
Customer reviews are a crucial part of any business and that's how you confirm whether you want to purchase any product from them or not but what if there are no customer reviews? It may be alright for a physical store but not an online one. We checked Trustpilot for reviews about mymedicineonlineshop24.com and much to our dismay, we did not find any reviews.

Conclusion
In summary, mymedicineonlineshop24.com is not a legit website but a scam and you should avoid doing any business with them. mymedicineonlineshop24.com is not registered by their real name and they have hidden Whois information, furthermore, there are no reviews about mymedicineonlineshop24.com on Trustpilot or anywhere on the internet for that matter.
In addition to that, the domain is not recognized by LegitScript, and Scamadvisor has given them a trust rating of 1 out of 100 which is a bad sign. On top of that, NABP has reported the online pharmacy as a scam which confirms that mymedicineonlineshop24.com is a scam.