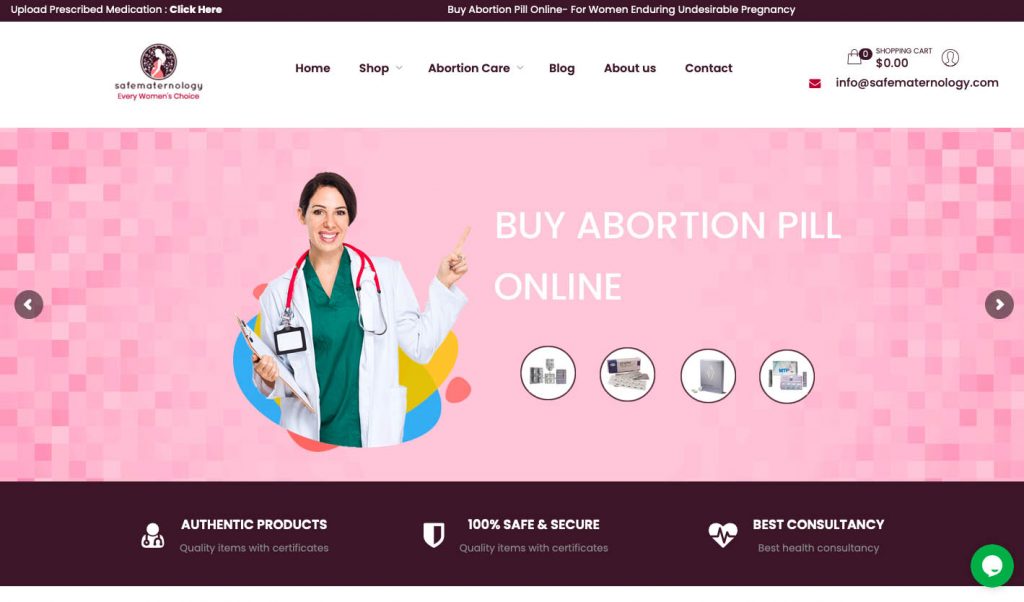 SafeMaternology.com is a pharmacy that only sells a few women's health products. They claim to be selling authentic products, but is this really true? Our look at the store finds many reasons to doubt a single thing they say, however.
| | |
| --- | --- |
| Domain Details | |
| Date of Registry | 2019-12-13 |
| Country | Australia |
| Main Details | |
| Drugstore Name | Safe Maternology |
| Address | Unknown |
| Regulatory Approvals | |
| LegitScript | Rogue status |
| CIPA | ✖ |
| Other | ✖ |
| Contact Info | |
| Free Number | ✖ |
| Contact Form | ✔ |
| E-mail | ✔ |
| Shipping Methods | |
| Standard Mail | ✔ |
| Express Delivery | ✔ |
| Free Shipping | ✔ |
| Payment Options | |
| Card | ✖ |
| E-Check or Personal Check | ✖ |
| American Express, Western Union | ✖ |
Domain Name Information
Checking the official information for this website shows us that they have been operating since the end of 2019. This isn't a very long time and makes them far more likely to be a candidate for a scam pharmacy classification.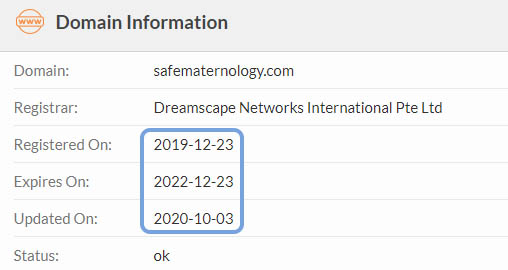 There is an Australian address in the record in the registrant contact section. But it isn't the business location of this pharmacy, instead, this is the address of a domain privacy service. This isn't the best thing to discover and increases the chances that this store is a scam.
Business Profile
It would be reassuring to find the business name and address on the website, however, there isn't any information like this available. Without any details of who is running this pharmacy or where they are located, this is more likely a scam than not at this stage.
Website Mistakes
Despite this pharmacy having been online for potentially over a year, they still haven't finished the site. When you scroll near to the bottom of the home page on the site you will see filler text and links to blog entries that are default WordPress installation.

Whoever made this pharmacy site, clearly lost interest and didn't finish the site. So if they can't even check their own website for mistakes, should you trust them to provide you with reliable medications?
Regulatory Approvals
Given that they haven't completed their website, it seems unlikely that they have completed the necessary regulatory accreditation. And checking the site we can see no indication that they have any approval to operate.
They say that the pills are FDA-approved treatments, however, they provide nothing to confirm this. While the pills they appear to be selling might be approved by the FDA, the actual manufacture won't have been. And this means that the quality could be lacking, to say the least.
Treatments Provided
They specialize in women's health drugs selling generic versions of abortion medications. Despite the pills being generic the prices are still high.
No details are given about where the drugs are dispensed from, and this creates a few problems. Delivery time is one issue, for treatments that are time-sensitive.
Another problem is that we don't know if the pills are from a legitimate source. There is a big problem with fake and low-quality meds being sold online, and since we have no clue where these meds are going to be sent from, the risks are very high with this pharmacy.
Payment Methods
The pages of the site are secured with the basic level of protection. They only offer one method of payment for the pills you can order; cash on delivery. This is an unusual payment method and leaves us with further doubts about the pharmacy. Will orders even be processed?
Shipping
The speed of delivery is quite important with the treatments they are selling, but we doubt you would get your meds as quickly as you would hope. They give the following shipping options:
7 to 15 business days for Super Express Shipping

16 to 25 days for Standard Delivery

Overnight shipping can take 5 business days to arrive
SafeMaternology.com Reviews
We have found a few SafeMaternology.com reviews, some on their site and one on Trustpilot. However, these seem entirely fake.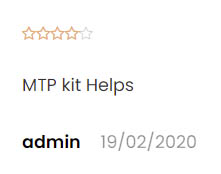 The feedback on their site has been posted by Admin, suggesting that the owner of the store has filled out the form.
The testimonial on Trustpilot also looks incredibly suspicious to us. The review was written around the same time the owner of the site claimed the page, and the feedback itself reads more like an attempt at marketing the website.
Conclusion
There are a lot of red flags when we look at this store. They are hiding some very important information that means we don't know who runs the business or where the pills are from. There is no regulation and clear attempts to deceive their customers.
All in all, buying your pills from this pharmacy would be a big mistake.