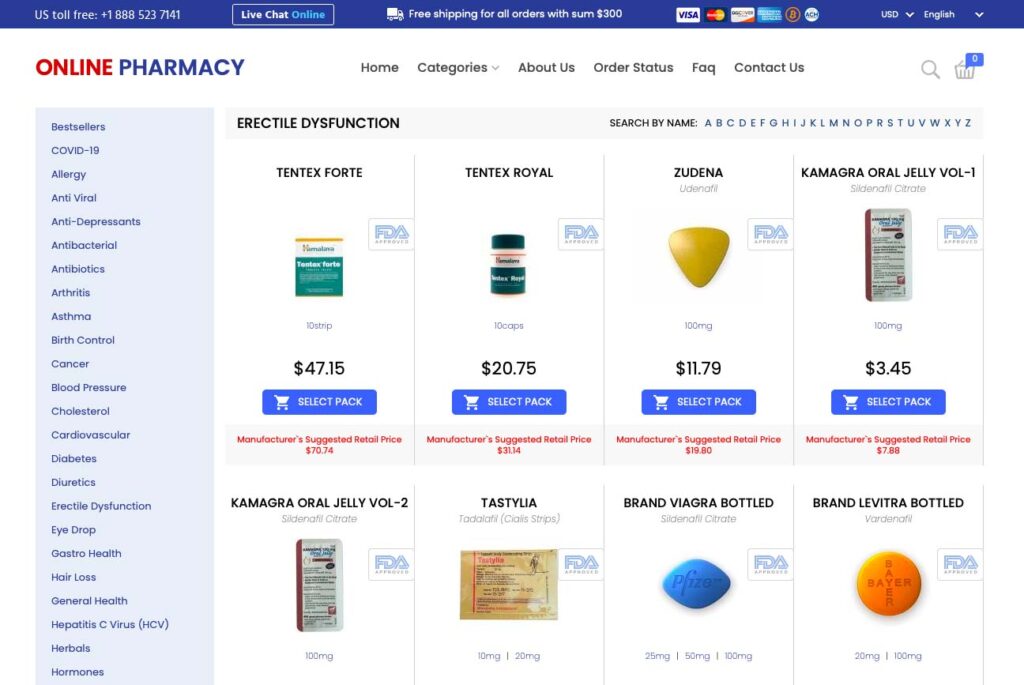 Are you considering ordering your medications from an online pharmacy? With the growth of internet usage, more and more people are turning to online pharmacies as a resource for their health care needs. Top-Sh-Op.com is one of such pharmacies. In this article, we will be reviewing Top-sh-op.com whether they are scam or a legit pharmacy.
| | |
| --- | --- |
| Domain Details | |
| Date of Registry | 2022-11-30 |
| Country | Spain |
| Main Details | |
| Drugstore Name | Online Pharmacy |
| Address | ✖ |
| Regulatory Approvals | |
| LegitScript | Not in the database |
| CIPA | ✖ |
| Other | ✖ |
| Contact Info | |
| Free Number | +1-888-523-7141 |
| Contact Form | ✔ |
| E-mail | ✔ |
| Shipping Methods | |
| Standard Mail | ✔ |
| Express Delivery | ✔ |
| Free Shipping | ✔ |
| Payment Options | |
| Card | ✔ |
| E-Check or Personal Check | ✖ |
| American Express, Western Union | ✔ |
Domain Information
Domain info can help us develop a vague idea about a pharmacy without going into details however, we cannot just declare a pharmacy as a scam or legit solely on the basis of domain info. Upon running Top-sh-op.com on whois, we found out these details:
Top-sh-op.com was registered on November 30th, 2022. It means that they are a relatively new pharmacy so it is possible that they may not have all the appropriate approvals right away.
Secondly, we observed that Top-sh-op.com is registered to only one year and their registration will be expiring on December 1st, 2023. It is safe to assume that they may not have plans for the future or it could be that they are playing it safe and they may extend their registration.
Furthermore, since they have been around for less than a year, they have not had the chance to renew their subscription. It will be better to assess detail after a few years.
Lastly, there is

no data on the owner of the website

, possibly because they are using a paid service to hide their identity. It could either be a red flag or a safety measure against hackers.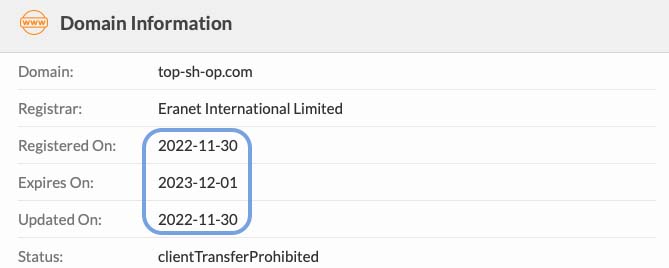 Business Profile
How would you check the authenticity of an online store if you're not satisfied? A strong business profile helps identify whether Top-sh-op.com is genuine or a scam. When we visited the official website of this pharmacy, we did not find any address or mailing details on the "Contact Us" page. Moreover, there were no specific business availability hours mentioned on the online store. 
This data gives logical evidence that Top-sh-op.com might be selling potentially inappropriate or unapproved drugs to its users. To further verify its identity, we checked it on Scamadviser.com, and unfortunately, the results were shocking. Scam Adviser give this internet pharmacy a very low trust rating of 17 out of 100, which proves this store has a weak online status. 
Regulatory Approvals
When purchasing medicine from an online store, it is crucial to check its regulatory approvals and certifications. When Top-sh-op.com was checked on CIPA.com, it didn't appear in the authorized pharmacies list. This gives a red sign indicating that the website might be selling substandard and potentially unstable medications.
To further check its authenticity and legal status, we have checked the background information on Legitscript.com. Unfortunately, it does not show any results means that the legal authorities of its state do not approve the website.
Products and Pricing
In terms of products, Top-sh-op.com has a bundle of medicines with different drug categories to ease users. You can get anti-depressants, antibiotics, pain relief, weight loss, muscle relaxants, and motion sickness drugs with different varieties. All the products and services are labeled separately on the homepage to find one easily. 
Above all, you can also search for your desired medicine using the search bar option on this internet pharmacy. The best thing is all the drugs come in a budget-friendly package, so anyone can easily get them per their needs. The prices are reasonable, with a wide list of products for all types of patients. 
Payments and Shipping
No one likes delays in the shipping of their product. Therefore, Top-sh-op.com provides free delivery for all orders for $300. Once you purchase, your order is ready for shipment and will be delivered within 3-5 business days. Compared to other online stores, this pharmacy has a unique "Order Status" option for customers to check whether the order is delivered, pending, or canceled. 
Keeping customers convenience in mind, Top-sh-op.com offers multiple payment options, including Visa, MasterCard, Discover, American Express, and direct bank transfer. 
Top-Sh-Op.com Reviews
As no testimonials are available on Top-sh-op.com, we checked on Trustpilot.com for customer reviews. Surprisingly, Trustpilot labeled it as an unclaimed profile with no public reviews available yet. This also shows that Top-sh-op.com is not legit and has no history of reviews from previous users.

Conclusion
We conducted a thorough review of Top-sh-op.com and we conclude that they are a scam pharmacy and should avoid purchasing any products from them. They have a ScamAdviser rating of 17 out of 100 which is very low for any website ecommerce website let alone an online pharmacy that sells drug.
Furthermore, Top-sh-op.com is not registered with either NABP or CIPA which is a huge red flag because they do not have a license to sell meds. What's more is that we ran the website on Legit Script and it showed no results.
All these things combined point in the direction that Top-sh-op.com is a scam and you should avoid them at all costs.