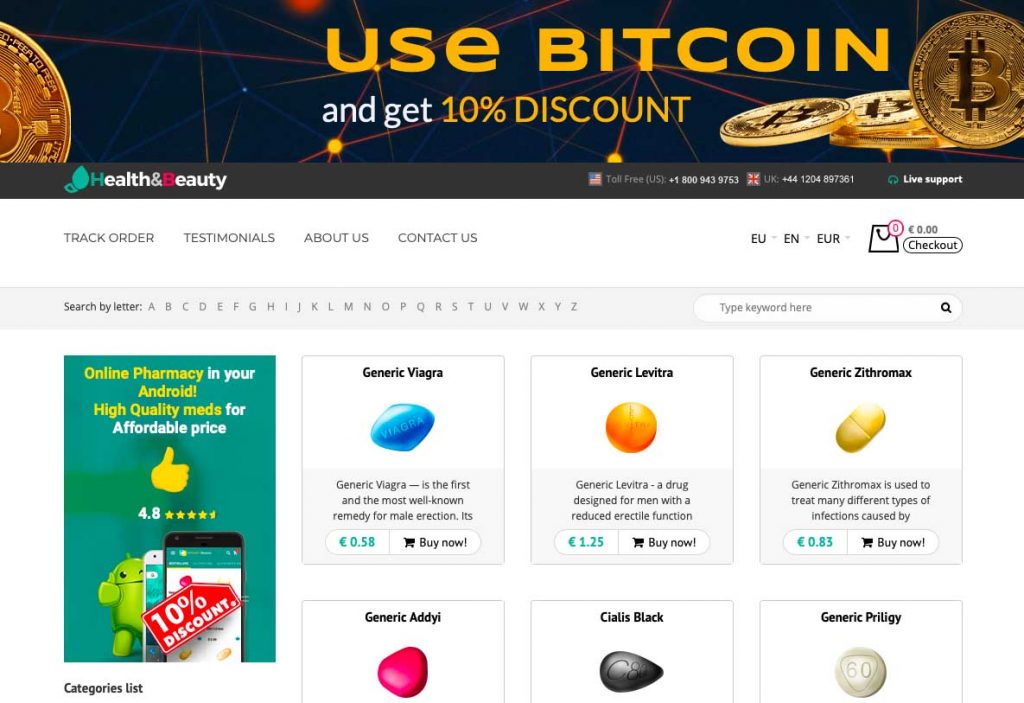 TrustedByAllAmerica.com is a pharmacy that certainly has a bold claim in its name. Nevermind trusted by all America, should you trust them? Our look at what they offer, suggests that it would be a big mistake to place any trust in this pharmacy.
Domain Details
Date of Registry
2017-04-27
Country
India or Africa
Main Details

Drugstore Name
Health&Beauty
Address
✖
Regulatory Approvals
LegitScript
Rogue status
CIPA
✖
Other
✖
Contact Info
Free Number
+1-800-943-9753
+44-1204-897361
Contact Form
✔
E-mail
✔
Shipping Methods
Standard Mail
✔
Express Delivery
✔
Free Shipping
✔
Payment Options
Card
✔
E-Check or Personal Check
✖
American Express, Western Union
✖
Domain Name Information
Reviewing the domain name records for this pharmacy tells us that they have been in business for a fair while. With registration dating from 2017, this is longer than many scam pharmacies we see.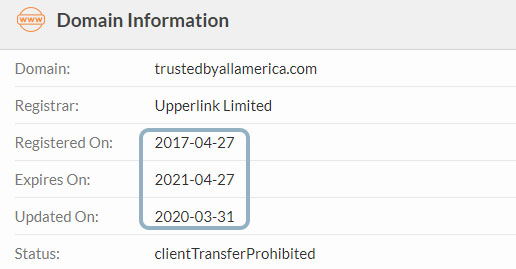 There isn't any information about who owns this pharmacy in the domain name records. Though we normally expect to find the section giving details about the registrant, none is to be found here.

The only clue as to where are the owner of this website is located, can be found from the registrar used to purchase the domain. This business is called Upperlink Limited, and a quick search reveals that they are a Nigerian company. Since Nigeria is world-renowned for ripping people off and their ability to scam, this isn't a great thing to find.
Redirect
When we go to the TrustedByAllAmerica.com address, we find that we are redirected to another pharmacy site. We are taken to MedsAllTheWorld.com and this isn't what we would normally expect from a reputable pharmacy. Perhaps the Trusted By All America site has closed and they are sending us to another drugstore.
Business Profile
There isn't any information about the business that is operating this store or where they are located in the world. This isn't what you would normally expect from a reputable business and indicates that they are far more likely to be a scam.
Regulatory Approvals
There isn't any sign that this pharmacy has the important regulatory approvals in place to make sure that they provide their customers with the service that works well. Since we can't even be sure which country they are located in, we don't know what sort of regulation they should be using to stay legal.
Certainly, LegitScript doesn't think that they are a reputable business. They are given the low classification of a rogue pharmacy that is operating outside of what is expected of online pharmacies.

Likewise, the site that it redirects to, MedsAllTheWorld.com, also has the same rogue rating from LegitScript, indicating that this redirect hasn't improved things for customers.
Medications Sold
There is a good range of pills on offer from this store. They appear to be most interested in selling men's health drugs, however. Other treatment options include:
Migraines

Neurological disorders

Supplements and vitamins

Antivirals
Some information about who has manufactured the pills is given on the product pages, however, sometimes a few different names are provided.

This might mean if you are buying generic pills from the site, you don't know who the manufacturer is exactly. While this is better than nothing, it isn't exactly great.
There also isn't any information about where the pills are dispensed from, though we know it's somewhere in India. This lack of information is a concern and could mean that the pills are of a lower quality than you would hope to find.
Payment Methods
You are redirected once more when you come to pay for pills from this pharmacy. The other site you are sent to does have some basic level of security, however. You can pay using the following options:
Bitcoin

Major credit cards
Shipping
Shipping options from the store is a choice between courier delivery with tracking and regular airmail. Courier delivery costs $30 and airmail costs $10. Though with the extra expense, you do get considerably faster delivery, perhaps taking 2 weeks less.
TrustedByAllAmerica.com Reviews
There is a page for TrustedByAllAmerica.com reviews on the pharmacy pages. Though, this is, of course, for the other pharmacy that the address redirects to.
Although, since these testimonials are fake, they don't actually apply to either pharmacy. It is easy to tell that these are fake testimonials since a date is given in the feedback that is before either of them were registered.
Conclusion
There are many problems with this pharmacy that indicate that this is a scam business you should avoid. They have no regulation, we don't know who owns the business, or exactly where the pills are coming from.