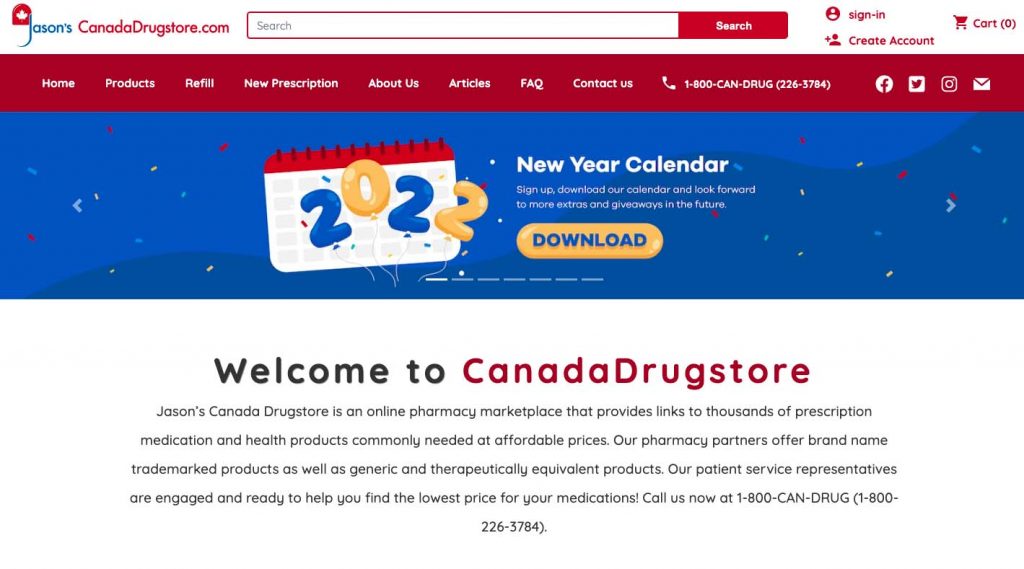 CanadaDrugstore.com, whose primary mission is the overall wellness of its customers, distributes health care products to individuals within Canada, the USA, and internationally. The online drugstore serves as a connection between individuals and prescription and over-the-counter medications. The medications include brand and generic equivalents of brand medications, which all come at affordable prices. Additional services the pharmacy e-store offers include prescription refills, free consultations, and doorstep deliveries.
Domain Details
Date of Registry
2016-11-15
Country
Canada
Main Details

Drugstore Name
Jason's CanadaDrugstore.com
Address
Regulatory Approvals
LegitScript
Unapproved status
CIPA
✖
Other
✔
Contact Info
Free Number
+1-800-226-3784
+1-431-800-2662
Contact Form
✔
E-mail
✔
Shipping Methods
Standard Mail
✔
Express Delivery
✔
Free Shipping
✖
Payment Options
Card
✔
E-Check or Personal Check
✔
American Express, Western Union
✔
Domain Info
The pharmacy domain was registered on November 15th, 2016, which is about 6 years of operation. The domain was last updated on December 4th, 2021, and is expected to expire on November 15th, 2026, 4 years from now.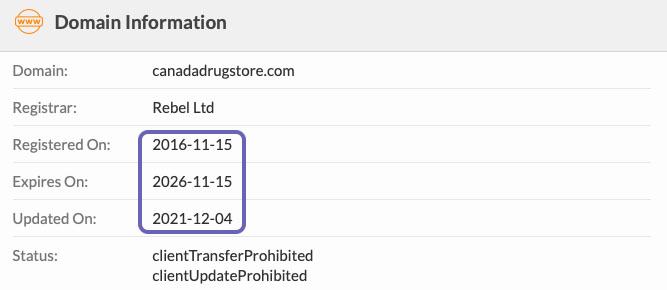 The pharmacy domain, which was registered six years ago, has been providing health care services for this long and is expected to keep providing health services for at least 4 more years in 2026. This is a strong indicator of a good track record and long-term commitment from the online drugstore.
The commitment cannot be overshadowed by the fact that there isn't information on the domain registrant as it is protected by Privacy Hero Inc. The reason for this protection is likely to keep the owner's private information from spammers, fraudsters, or domain hijackers.
Business Profile
The pharmacy e-store, also known as Jason's CanadaDrugstore.com, is located at 123 St Anne's Rd, Winnipeg, MB R2M 2Z1, Canada. Customers can physically visit the online pharmacy through its brick-and-mortar pharmacy representation and meet with its licensed pharmacists and staff. The ownership of the online pharmacy or the position of pharmacy manager is associated with Jason Pankratz according to the College of Pharmacists of Manitoba (CPHM).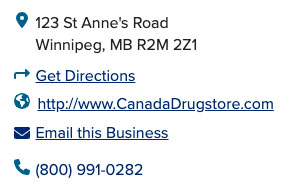 In addition, the online pharmacy can also be reached via toll-free, international telephone numbers, e-mail, and fax. Furthermore, the business is also accredited by the Better Business Bureau (BBB), an organization that operates in Canada, amongst other countries, in providing the public with the identities of businesses they can trust.
In addition to the commitment shown by the pharmacy e-store, customers can also have additional trust in the business through its transparency of operations. It does this by providing physical and contact addresses associated with it.
Regulatory Approvals
Regulatory approvals differentiate between legitimate and scam businesses. The Canadian online drugstore is licensed in Manitoba, the province where it is located. The business is regulated and licensed by the regulatory authority in its province – the College of Pharmacists of Manitoba (CPHM). It meets the pharmacy licensing requirements and its license number is 35200 IPS.
While the online drugstore is licensed by a Canadian pharmacy regulatory authority (CPHM), it doesn't have satisfactory certification by international regulatory bodies like LegitScript or the National Association of Boards of Pharmacy (NABP).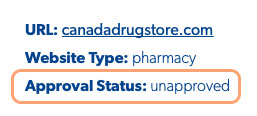 Its LegitScript rating is unapproved, which denotes some slight problems with regulatory compliance in other jurisdictions or countries. Its LegitScript's rating is also similar to its NABP's rating – not recommended, for probably similar reasons as LegitScript, which is the absence of regulatory compliance in relevant jurisdictions.
Irrespective of its NABP's or LegitScript's rating, the online pharmacy is nonetheless certified by regulatory bodies in Canada.
Products and Pricing
Some categories of medications and popular products distributed by the pharmacy e-store include:
Men's Health

Generic Latuda (Lurasidone)

: $2.54 per tab.

Premarin (Estrogens)

: $0.89 per tab.

Generic Brilinta (Ticagrelor)

: $2.02 per tab.

Dexilant (Dexlansoprazole)

: $2.51 per vial.

Erfa Thyroid

: $0.81 per tab.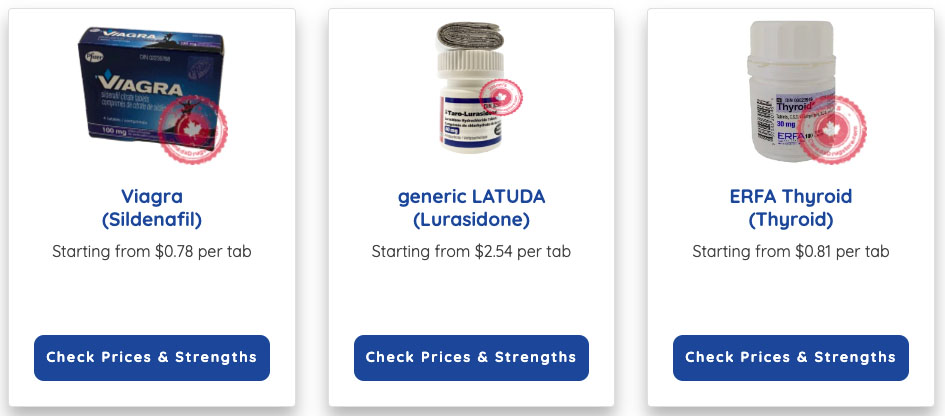 Payment Method
The available payment options on the payment page include:
Credit card

American Express

Check (cheque)

Draft

Money order

Electronic fund transfer
Cryptocurrency and PayPal were also hinted at as possible payment options on the pharmacy website.
Customer Reviews
It is easier to give reviews on a pharmacy website where medications are purchased, than on independent review platforms like TrustPilot.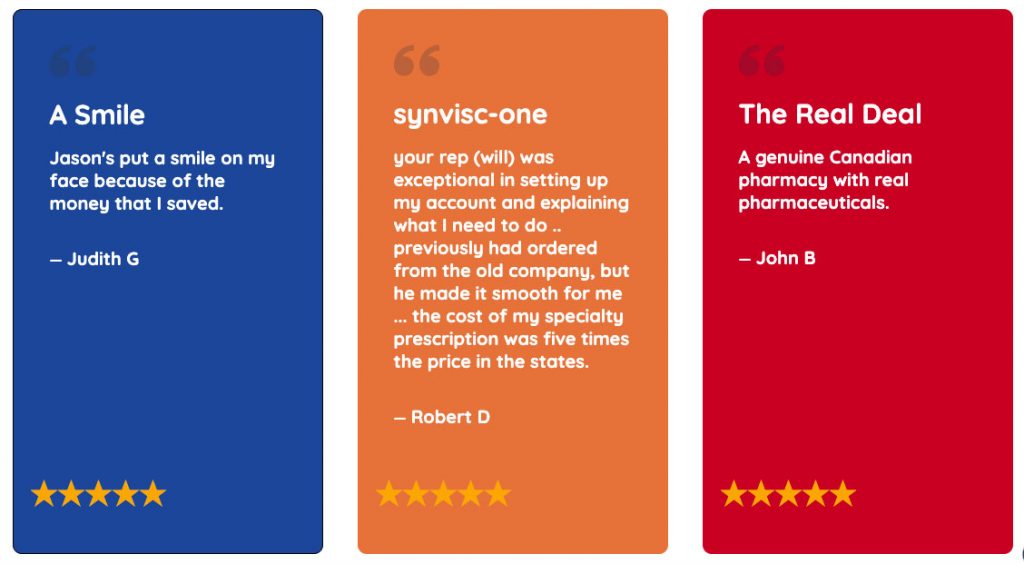 Hence, the reason why there are 5-star ratings about the excellent products and services of the online drugstore on its website but none on TrustPilot. While this doesn't seem encouraging, it doesn't make the reviews on the pharmacy website less real.
Conclusion
This online Canadian pharmacy has been around a while and committed for a long time. It isn't only committed to providing quality health care medications to customers, but the online business is also transparent and licensed by CPHM. The only downside of the pharmacy e-store is its unfavorable LegitScript and NABP ratings for not meeting regulatory compliance in some jurisdictions.
Nonetheless, the online pharmacy is safe and legit, if not in all countries, at least in Canada.