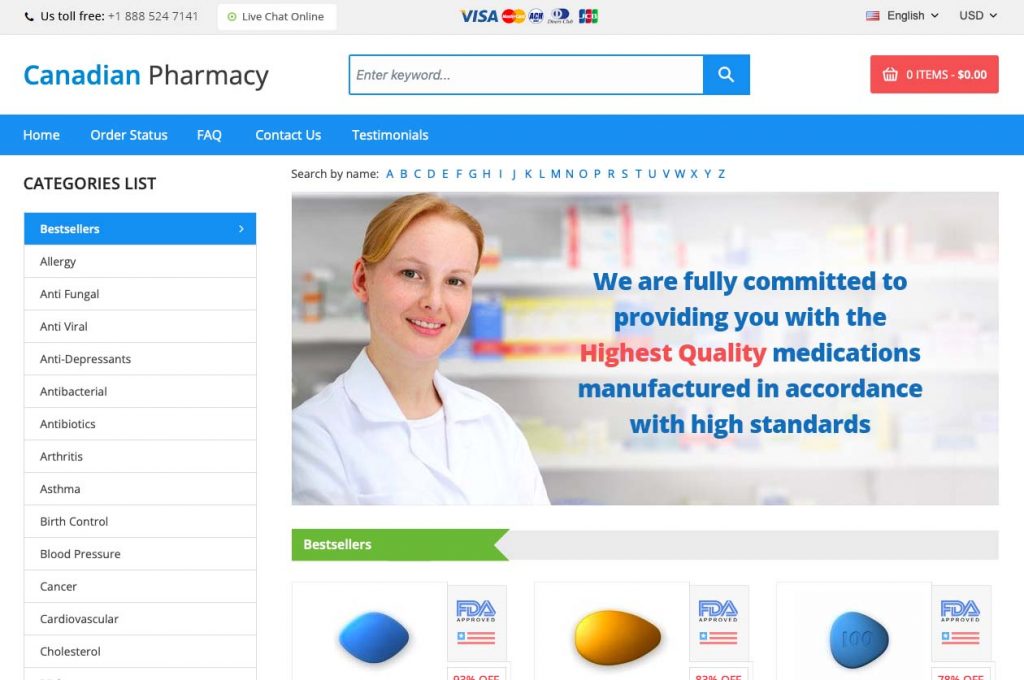 Most people trust websites that claim to be Canadian pharmacies as all of them have professional pharmacists. They have medicines approved by FDA. Canadian pharmacies need to get licenses from accreditation organizations. We need to be aware of scam websites claiming to be Canadian pharmacies. Canadian-Pharmacy-24hr.com is a scam website. We will help you identify the features that make this website a fraud. You will be able to find scam websites also after reading this review.
| | |
| --- | --- |
| Domain Details | |
| Date of Registry | 2019-05-14 |
| Country | China |
| Main Details | |
| Drugstore Name | Canadian Pharmacy |
| Address | ✖ |
| Regulatory Approvals | |
| LegitScript | Rogue status |
| CIPA | ✖ |
| Other | ✖ |
| Contact Info | |
| Free Number | +1-888-524-7141 |
| Contact Form | ✔ |
| E-mail | ✔ |
| Shipping Methods | |
| Standard Mail | ✔ |
| Express Delivery | ✔ |
| Free Shipping | ✔ |
| Payment Options | |
| Card | ✔ |
| E-Check or Personal Check | ✔ |
| American Express, Western Union | ✔ |
Domain information
The domain is operating from one of the shared networks in China. The website provided false information at the time of domain registration. They claim that the website is a part of the Alibaba group. It is one of the largest e-commerce groups in China. We checked the business details of Alibaba as there is no pharmacy business owned by this group in Canada.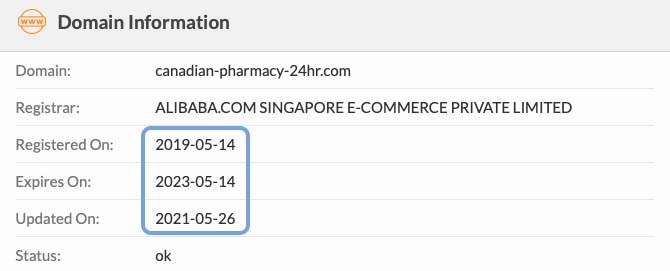 They registered the domain on 14-05-2019. The company only has three years of online business experience. There is a high chance that the company is a scam because their false claim about the association with a big company has raised a red flag.
Business profile
It is easy to tell the difference between a scam website and an authentic online pharmacy by looking at the home page. Online pharmacy does not advertise specific medicines as they will always advertise their services. You will find prescription filling and pharmacist-related services on their website. The scam website's home page only has medical products for men's health.

Canadian-pharmacy-24hr.com is using the template of a scam website. There is no description of the pharmacist-related services. They provide medicines without a prescription. It also raises a red flag about the activities of this website.
Accreditation
They are not operating the business in Canada. Domain information shows that the company is operating from China. They cannot get any accreditation from Canadian organizations as they do not have a business license in Canada. You cannot purchase medicines from them legally.
Safety
You can face legal consequences if you buy medical supplies from them. They do not have a license to sell medical products in Canada. They are also providing medical products without a prescription. It is not safe to buy from them. You can get severe allergic reactions also if you use their medicines. They do not have FDA-approved medical supplies. You cannot be sure about the safety of the medicines.

Most online pharmacies take security measures like a secure lock and antivirus installation. This website only has an SSL certificate. They will not see the data that you put on the website. It does not mean that you are doing secure transactions as there are many ways these websites can scam the customers.
Payment methods
The company accepts credit cards from Visa, Master, AMEX, Discover, JCB, Diners Club, and E-checks. There is no option for Paypal or bank transfer. They accept limited payment gateways. They should register legally and accept more ways of taking payments if they want to become a legitimate company.
Service Process
They offer a simple way to buy medicines. You may choose the medical supplies and add them to the cart. After finalizing the selection, you can go to the checkout page. They will ask you to provide your credit card details. They will charge your credit card before sending the order confirmation. You will get the medical supplies through the mail.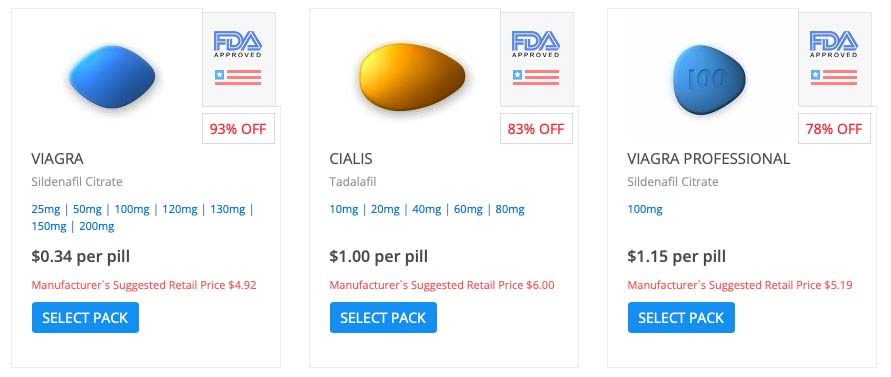 Customer Reviews
When we want to find reviews about a company, we go to the Trustpilot. It is one of the most trusted websites for review. We only recommend a company if it has many positive reviews. We aim for more than a 4-star rating before recommending a website.

We do not recommend canadian-pharmacy-24hr.com because it does not have any reviews on the Trustpilot. We also try to find reviews on the company website. They have a testimonial page on the website. We checked the details of the review. All reviews on the website are fake as the company has not made any changes to the review page for a long time.
Conclusion
When we compare canadian-pharmacy-24hr.com with websites working in Canada legally, there is a big difference in service quality. This company has many problems related to safety. We do not recommend buying medical supplies from this website.