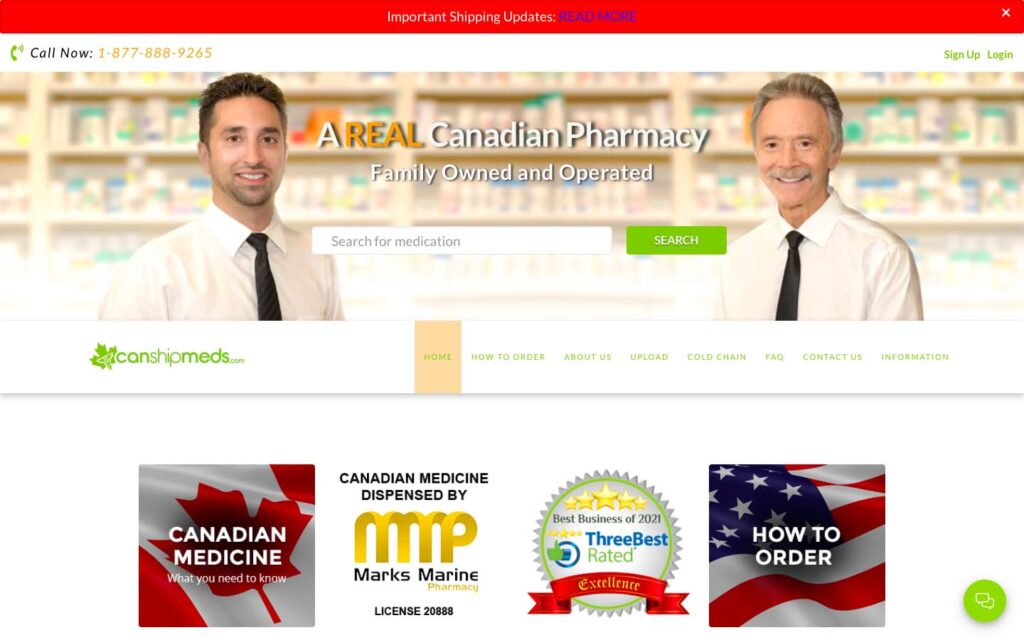 CanShipMeds.com is based in Canada. They ensure everyone has access to services that can enhance their health, regardless of their financial situation or background. They also assert to provide precise and reliable explanations of each medication. Additionally, they offer huge bargains and discounts on the offered medications. This article will review significant elements, such as domain data, company history, customer feedback, etc., that may help customers distinguish between a scam and a legit website.
| | |
| --- | --- |
| Domain Details | |
| Date of Registry | 2014-05-30 |
| Country | Canada |
| Main Details | |
| Drugstore Name | CanShipMeds |
| Address | |
| Regulatory Approvals | |
| LegitScript | Not in the database |
| CIPA | ✖ |
| Other | ✔ |
| Contact Info | |
| Free Number | +1-877-888-9265 |
| Contact Form | ✔ |
| E-mail | ✔ |
| Shipping Methods | |
| Standard Mail | ✔ |
| Express Delivery | ✔ |
| Free Shipping | ✖ |
| Payment Options | |
| Card | ✔ |
| E-Check or Personal Check | ✖ |
| American Express, Western Union | ✖ |
Domain Information
We can determine a website's legitimacy or deception with the proper evaluation of the domain information. We have done extensive research and have compiled a summary of Canshipmeds.com's most important facts.
Canshipmeds.com was registered on 30-05-2014, indicating that they have been in operation for a while and should be well-established by this point.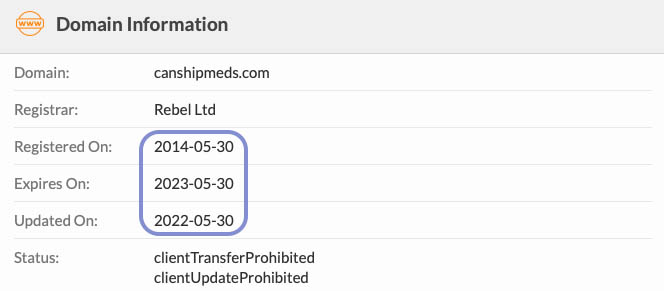 Additionally, Canshipmeds.com was most recently updated on 30-05-2023, indicating that the domain has not been abandoned.
Canshipmeds.com is additionally registered till 30-05-2022, meaning they will continue to operate in the following years.
Canshipmeds.com uses a private service to conceal the name of its owner, which may raise red flags in the eyes of some users but may simply be a safety precaution.
Domain registered on: 30-05-2014
Host country: Canada
Contact: No
Business Profile
Canshipmeds.com appears legitimate and highly acceptable due to the full official address listed on the website's homepage.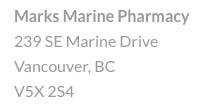 Additionally, the website offers all medical and pharmaceutical information within the appropriate business hours.
Above all, the pharmacy's website includes the business address. We cannot, however, base a pharmacy's legitimacy or deception on only two factors.
Regulatory Approvals
Confirming Canshipmeds.com with regulatory authorities is essential to ensure it is secure and legitimate. Canshipmeds.com did not appear on the list of authorized pharmacies when it was checked by CIPA (Canadian International Pharmacy Association). This raises a warning flag suggesting the website may offer subpar, possibly unstable drugs.
We looked into Legitscript.com's background data to confirm its authenticity and legal standing. Unfortunately, the fact that it does not produce any results indicates that its state's legal authorities do not authorize the website. Additionally, we checked Canshipmeds.com on NABP, but to no avail; this is another warning sign. They are not registered with NABP.
However, the College of Pharmacists of British Columbia and the Canadian government have recognized this pharmacy (License #20888).
Available Products and Pricing
Looking at a website's price and content management is one of the best methods to understand what it is about. They exhibit their medications on the digital store shelves well. The drugstore provides numerous possibilities for price reductions. The most noteworthy benefit of purchasing drugs from an online retailer is the chance to evaluate their quality and earn discounts all in one go.

Payment and Shipping Methods
The best feature of Canshipmeds.com is that they offer swift product delivery and can ship the drugs as soon as feasible. When providing its services, it always provides long-term safety facilities and is run by a team of professionals who never compromise product safety.
The preferred payment options can vary depending on what is most convenient for the customer. Other payment options are direct bank transfers, debit cards, and credit cards. Contrary to certain other pharmacies, CanshipMeds.com does not accept cryptocurrency payments.
CanShipMeds.com Reviews
The best approach to determine whether Canshipmeds.com is authentic is to read reviews left by past customers. Therefore, we searched Trustpilot.com for this pharmaceutical company; regrettably, there were no reviews.

There are currently no reviews on the site, which indicates that the business hasn't had any feedback from its customers. Some people may consider the absence of reviews as a warning sign.
Conclusion
As a result of our evaluation of Canshipmeds.com for you, we can confidently say that you can buy products there without risk.
However, Canshipmeds.com's lack of registration with LegitScript, CIPA, or NABP may raise suspicions. However, after examining the website, shipping options, and user experience, it appears they are a legitimate pharmacy.