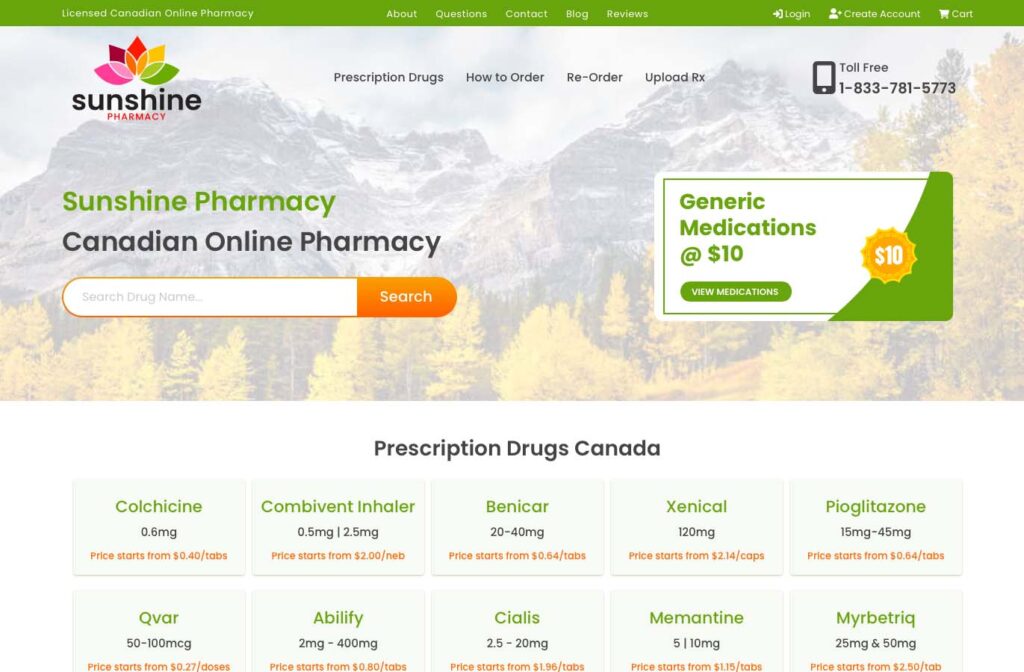 As the world of medicine and healthcare rapidly advances, it's important to stay informed on reputable sources where you can purchase medication. SPFPharmacy.com has been at the forefront of providing quality service and meds to customers for years but is this too good to be true? In this article, we will review them thoroughly so you don't have to go through such details before ordering from them.
| | |
| --- | --- |
| Domain Details | |
| Date of Registry | 2019-05-21 |
| Country | Turks and Caicos Islands |
| Main Details | |
| Drugstore Name | Sunshine Pharmacy |
| Address | |
| Regulatory Approvals | |
| LegitScript | Unapproved status |
| CIPA | ✖ |
| Other | ✖ |
| Contact Info | |
| Free Number | +1-833-781-5773 |
| Contact Form | ✔ |
| E-mail | ✔ |
| Shipping Methods | |
| Standard Mail | ✔ |
| Express Delivery | ✔ |
| Free Shipping | ✖ |
| Payment Options | |
| Card | ✔ |
| E-Check or Personal Check | ✖ |
| American Express, Western Union | ✖ |
Domain Info
We can get a rough notion of whether a website is legitimate or a scam by correctly assessing domain information. We have done extensive research and compiled a list of important facts about spfpharmacy.com.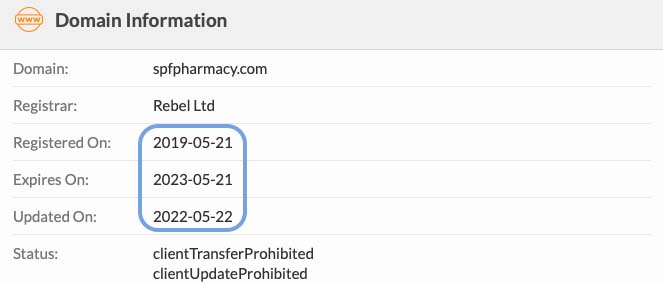 The domain spfpharmacy.com was registered on May 21st, 2019, indicating that they have been in business for a few years and are well established.
Furthermore, spfpharmacy.com was most recently updated on May 22nd, 2022, indicating that the site has not been abandoned.
Additionally, spfpharmacy.com is registered until May 21st, 2023, thus we will see them operate in the next years.
Spfpharmacy.com is using a private service to conceal its owner's name, which may appear to some as a red flag, but it could simply be a precaution.
Business Profile
With a complete official address listed on the website's "contact us" page, spfpharmacy.com appears real and extremely respectable. Furthermore, all medical and pharmaceutical information is available on the site throughout normal business hours.

However, when we ran the website through Scamadviser, we observed something out of the ordinary. ScamAdviser has given them a trust rating of 1 out of 100 which is rather low for any website let alone a pharmaceutical website claiming to sell drugs that directly affect your health.
Regulatory Approvals
It is critical to check with regulatory authorities to confirm that spfpharmacy.com is safe and legitimate. When spfpharmacy.com was checked by CIPA (Canadian International Pharmacy Association), it was not found on the list of authorized pharmacies. In addition to that, we also ran them on NABP, and much to our dismay, they are not registered with NABP as well. It indicates that the website may be selling poor and potentially unstable drugs.

To further check its authenticity and legal status, we have checked the background information on Legitscript.com. The results showed that LegitScript has rated them as an unapproved pharmacy which is not entirely bad as a large number of legit and giant pharmacies are still unapproved by LegitScript. It means that they are working in the market and they might get approved with LegitScript anytime.
Products and Pricing
Spfpharmacy.com contains various services and a list of medications available to users. They sell medication in almost all domains ranging from cold medicine to cancer treatment medication. Although, we observed that they have displayed mostly men's health medication on their website which might as well be a bait to scam people.

On their page, Spfpharmacy.com allows you to search for medication. They have a simple and easy-to-understand interface that anyone can use without facing trouble. To make things simpler, they have listed the percentages and formulations of the drugs available.
Payments and Shipping
Managed by a team of professionals, it never compromises product safety and always provides long-term safety facilities when delivering its services. They offer a flat charge of $15 on all their delivery to the US and Canada. However, if you want your medication to be delivered anywhere around the globe except the above-mentioned countries, they will charge you a whopping $80 for International tracked shipping.
The preferable payment methods are also variable, keeping customers' convenience in mind. You can also pay through debit, credit card, or direct bank transfer. Spfpharmacy.com however, does not offer payments through cryptocurrency and cash on delivery, unlike some other pharmacies. In addition to that, they do not sell prescriptions without a legal and authentic prescription so you might have to share your prescription with them if you want to buy such meds.
SPFPharmacy.com Reviews
Feedback from customers is the most reliable approach to determine whether spfpharmacy.com is legitimate. As a result, we ran this pharmaceutical company through Trustpilot.com; however, no reviews were found. This signifies that the company has yet to receive feedback from its users, as there is no review information on the site. Some may consider the lack of reviews to be a warning flag.
Conclusion
We conducted a thorough review of spfpharmacy.com for you and we found mixed results. For starters, they have a low Scamadviser rating which is not a good sign. In addition to that, spfpharmacy.com is not approved by NABP or CIPA. However, on the plus side, they are unapproved by LegitScript, meaning that they have been recognized but not yet approved. Plus they have a strict policy for checking prescriptions. Unlike scam pharmacies that claim to sell prescription meds without legit prescriptions.
We concluded that spfpharmacy.com may be legit and safe to do business with but you should take account of all risks.