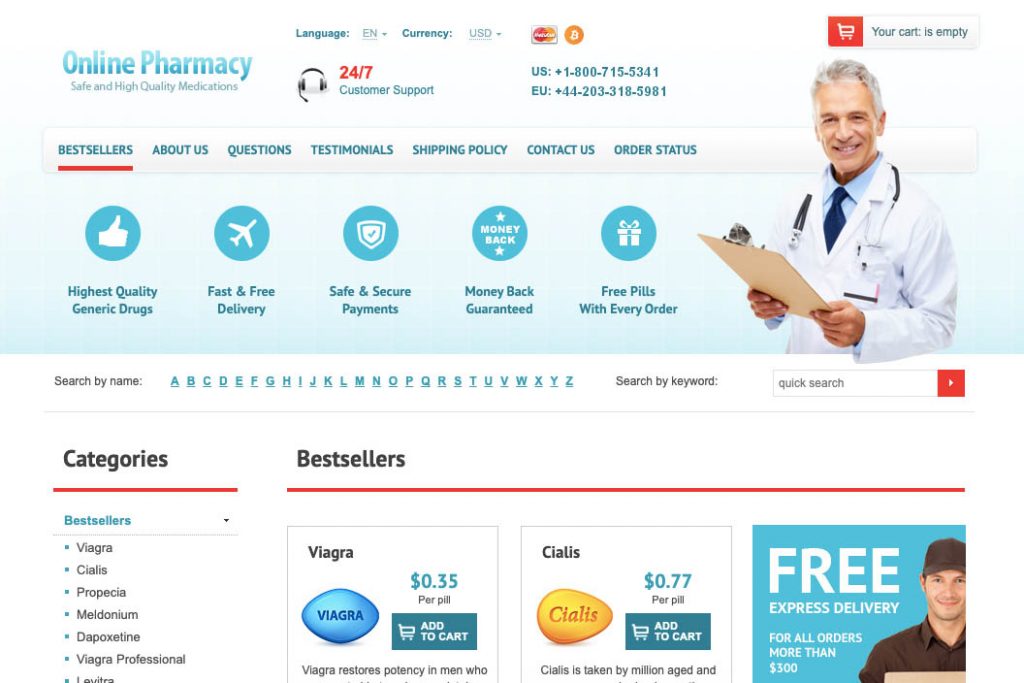 Euro-PharmStore24h.com claims to provide only the highest quality drugs to their customers. They also claim to be operating from the Czech Republic, however, our look at this pharmacy casts these claims in great doubt.
Domain Details
Date of Registry
2018-09-11
Country
Unknown
Main Details

Drugstore Name
Online Pharmacy
Address
Fake
Regulatory Approvals
LegitScript
Rogue Status
CIPA
✖
Other
✖
Contact Info
Free Number
+1-800-715-5341
+44-203-318-5981
Contact Form
✔
E-mail
✖
Shipping Methods
Standard Mail
✔
Express Delivery
✔
Free Shipping
✔
Payment Options
Card
✔
E-Check or Personal Check
✖
American Express, Western Union
✖
Domain Name Information
A good place to start to look at the details behind an online pharmacy is the domain name records for the website address they use. We can see from the record for this pharmacy that they have been in business for a little over a year. This isn't a good indication of a reliable pharmacy, but on its own doesn't confirm that they are a scam.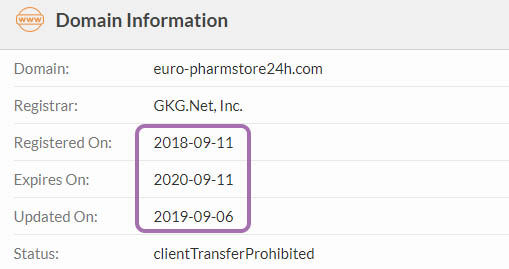 Not helping matters is the use of a domain privacy service to hide their real contact details. This is something else which can point towards the drugstore being more likely to be a scam.
Related Websites
When visiting this pharmacy, it is immediately apparent that this is one of many mirror drugstores which are currently operating. This means that the owner has uploaded the same store as many others, and it also offers the same products. They use the same text and graphics as each other, clearly, this isn't what you would expect from a reputable pharmacy business.
Some of the mirror pharmacies:
247worldstorerxc.com

fast-pharmacy.com

rx-buy.com
Business Profile
The business details which this pharmacy provides on their contact page are also found on the other mirror stores.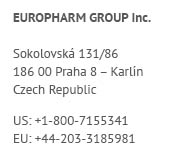 However, the address and business name aren't believed to be real. They give an address in the Czech Republic and the business name of "Europharm Group Inc" but there is no indication that this is a real business.
It doesn't have a corporate website and no mention of it can be found in official records.
Regulatory Approvals
If this was really a business based in the European country of the Czech Republic, they would need to have accreditation from an EU Government's medical regulatory agency.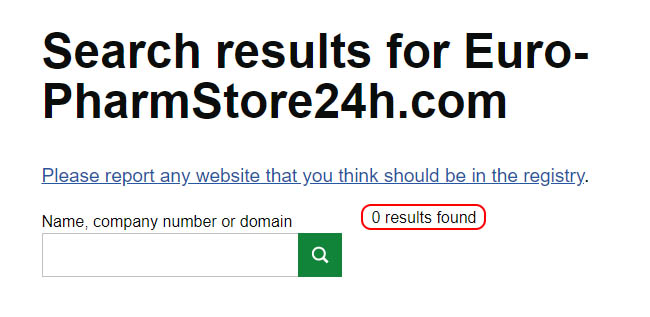 They would also be required to display the common distance selling logo on every page of the site, this would contain the flag of the Czech Republic. However, this logo isn't displayed anywhere on the pharmacy and, therefore, it appears that they are operating illegally.
A check with the Medicines and Healthcare products Regulatory Agency confirms what we assumed to be the case. They have no record of this online pharmacy in their database and this means that they are operating outside of the law.
The reality is that they probably aren't operating from the location they give on the site. If we don't know where they are really based we can't check that they have the correct regulatory approvals.

A check on the LegitScript database confirms our finding that this pharmacy isn't operating within the rules.
Treatments Offered
They are claiming to sell only high-quality pills on their store. They have both the cheaper generics and the better-known brands. Most popular seem to be men's health drugs.
There seems to be some indication that the pills are being dispatched from India, though they don't give exact details or name the pharmacy involved. This means that we have no way of knowing if the dispensing of pills is done by properly trained pharmacists and creates concerns that the pills aren't the high-quality they want you to think. 
Payment Methods
The checkout is concluded on a different secure website and they only accept the following payment methods:
Shipping
Free shipping is provided when you commit to spending at least $200. They have a choice of either airmail or courier delivery. Courier has the benefit of tracking and faster shipping times, though it costs $24.95. Airmail is ten dollars less and you can expect your pills to arrive in about 3 weeks.
Euro-PharmStore24h.com Reviews
The positive looking Euro-PharmStore24h.com reviews found on their testimonial page might appear reassuring but are fake. These same comments can be found on the other mirror pharmacies and elsewhere and don't related to the service this drugstore provides.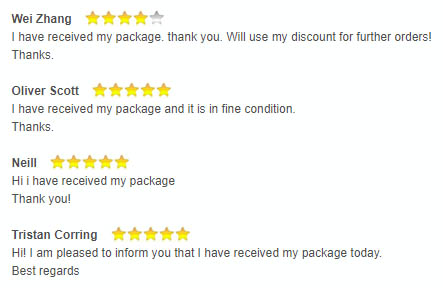 Conclusion
There are a large number of identical pharmacies online to this one. They don't have any regulation and they are being very secretive about who they are and where the pills come from. This creates a significant risk of dangerous pills being distributed through this online pharmacy.
Please don't take the risk with this scam online pharmacy!