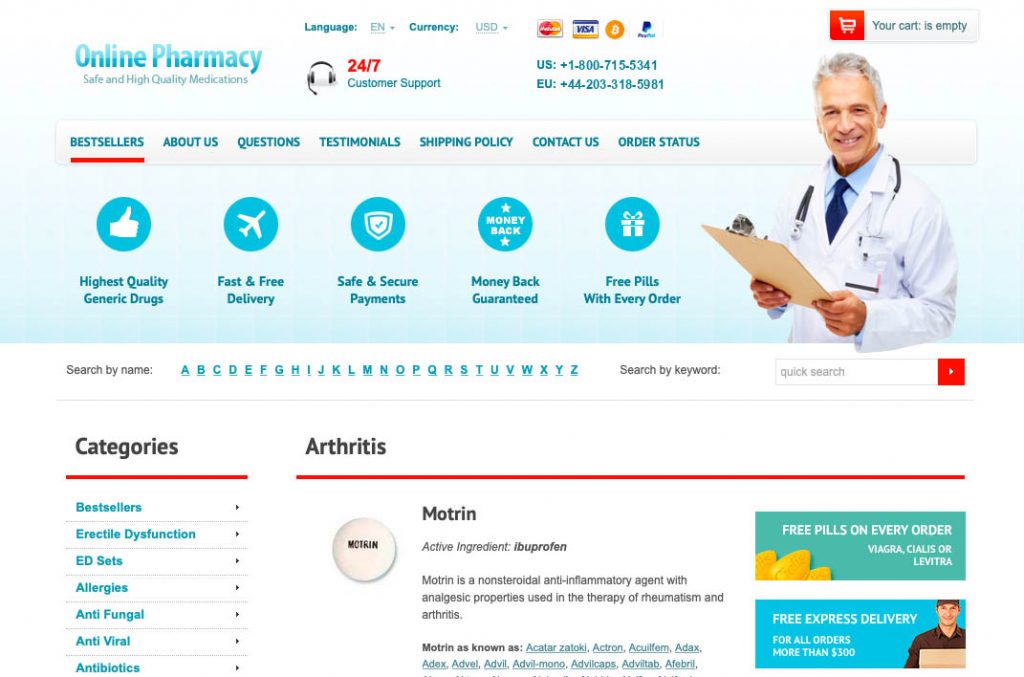 IbuprofenUSCa.com is a drugstore offering the highest quality and free pills with every order. While these are the things you might want to hear when ordering medicines online, our review proves that this isn't the pharmacy you should choose.
Domain Details
Date of Registry
2021-10-08
Country
Bahamas
Main Details

Drugstore Name
Online Pharmacy
Address
Fake
Regulatory Approvals
LegitScript
Not in the database
CIPA
✖
Other
✖
Contact Info
Free Number
+1-800-715-5341
+44-203-318-5981
Contact Form
✔
E-mail
✔
Shipping Methods
Standard Mail
✔
Express Delivery
✔
Free Shipping
✔
Payment Options
Card
✔
E-Check or Personal Check
✖
American Express, Western Union
✖
Domain Name Information
Domain name details for this pharmacy show that they've been online for under a year. Since this pharmacy doesn't have much history there is a greater chance that they aren't going to provide a good service and, in fact, are a scam.
We aren't helped in our opinion by finding information about where this business is based in the record. Instead, in the domain name records a privacy service has been used to hide that information from customers.
Mirror Websites
We have seen too many online pharmacies that look exactly the same as this store. The others use the same graphics and sell the same products, and were always scams, so it doesn't look good for this store.
Known mirrors include:
1-rx-store.com

1stmedsmarket24x7.com
Business Profile
We have seen this website template many times before, and we know what to expect. On their contact page, they usually give a map and an address in the Czech Republic using the business name Europharm Group Inc.

However, on this pharmacy, these images are missing and not held on the webserver. The placeholders are shown so we know they should be there. This is just another problem with this pharmacy website that suggests they aren't anything but a scam.
Regulatory Approval
There aren't any regulatory seals found on the website. The only mention of anything like that by the store says that the pills they sell are approved by the Indian FDA.
While this might suggest that the pharmacy is doing something correctly, it isn't really. All that claim means is that the formulas have been approved, and it doesn't mean that either the manufacturer or the pharmacy itself is actually regulated. This can only mean bigger problems for customers.
Medicines Available
Despite the name of the pharmacy, the store doesn't only sell ibuprofen. The other pills they sell include:
Cholesterol

Allergies

Pain relief

Men's health
The pills available on the store are generic and the prices are quite low, but not the cheapest available on the Internet. We do find an obvious problem on the product pages, however. They do not provide any information about who is manufactured their drugs and we still don't know where they are dispensed from.

This makes it all the more likely that the pills they sell are coming from unreputable sources. This might mean that the medicine contains the wrong ingredients or a different amount of ingredients than they are supposed to have.
Any problems like these could have dire consequences for the patients relying on their medicine. It could result in unpredictable outcomes, with the customer's health not improving as they hoped.
Payment and Shipping
The checkout pages for the website do have some security, and you can pay using:
MasterCard

Visa

PayPal

Bitcoin
After you have ordered from this pharmacy, there are two options for delivery. These are airmail costing $14.95 and EMS costing $24.95. Airmail could take a month to arrive, however, and does not include tracking. EMS claims to get your medicines to you in 3 to 8 business days and also includes tracking.
IbuprofenUSCa.com Reviews
While there are some IbuprofenUSCa.com reviews to read on the pharmacy site, they are not genuine. The same comments are found on the other mirror pharmacy sites and should not make you think that this store is trustworthy.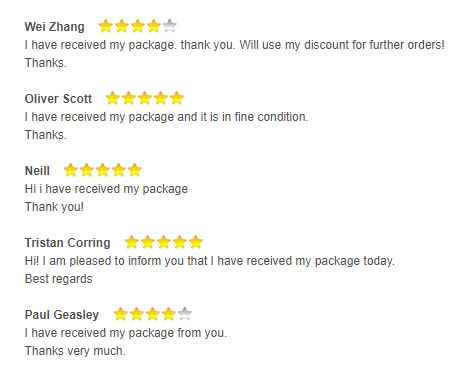 Using fake customer feedback is only something that you ever find on scam websites, and so does not look good here. Unreputable pharmacies use fake feedback like this to encourage visitors to their website to complete a purchase.
Conclusion
There are many problems with this pharmacy that were apparent immediately after we saw the store. It is a copy of many other pharmacies we've already seen and proved to be scams.
We don't know who is operating this business, and we don't know where the medicine is dispensed from. They also don't have any regulatory approval, and we doubt they would be reliable if you used them.