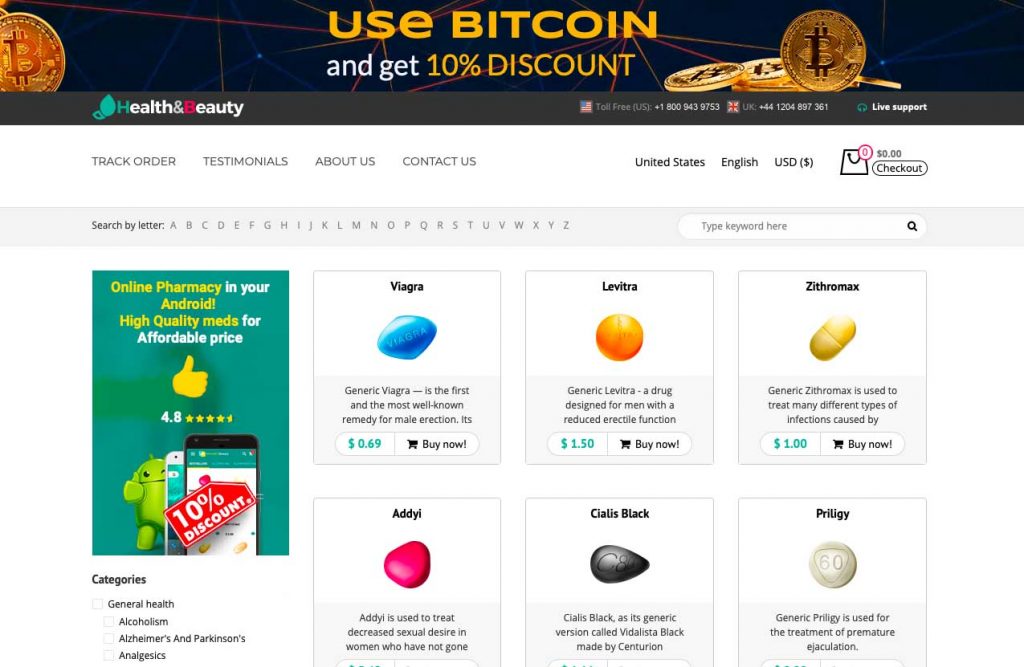 MedsAllAroundtheWorld.com is a drugstore that seems to be offering low-cost medications. If you are considering purchasing from this pharmacy, is this really the best choice? Our look at what this pharmacy does uncovers many problems.
Domain Details
Date of Registry
2021-06-10
Country
Great Britain
Main Details

Drugstore Name
Health&Beauty
Address
no
Regulatory Approvals
LegitScript
Rogue status
CIPA
✖
Other
✖
Contact Info
Free Number
+1-495-577-7756
+1-800-943-9753
+44-1204-897-361
Contact Form
✔
E-mail
✔
Shipping Methods
Standard Mail
✔
Express Delivery
✔
Free Shipping
✔
Payment Options
Card
✔
E-Check or Personal Check
✖
American Express, Western Union
✔
Domain Name Information
There is no way that this business has been operating for very long. We know this because the domain name records show that the website address was only registered recently. A pharmacy that hasn't been online for long is far more likely to be a scam, however.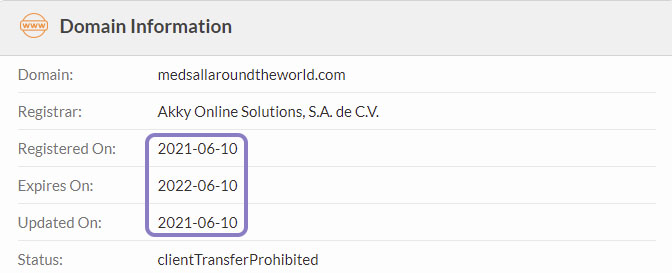 There is some information about who owns this domain name, and it tells us that they are located in London, UK. There aren't any more details on this available in the record though.
Business Profile
On the pharmacy site, they do not give us their business location, so we can't confirm the details shown in the domain name records.
The pharmacy has both USA and UK phone numbers if you need to contact them. But when we check the area code for the UK number, it isn't for London as we might have expected and was shown in the domain records.

If you were to call either of these numbers, the likelihood is you will be diverted to a call center in a completely different country anyway.
Regulatory Approval
If this pharmacy is operating in the UK, they need to be following the rules set out by the government agency the MHRA. We can check pharmacies that are registered with the Medicines and Healthcare products Regulatory Agency, and this pharmacy isn't found in the database.

Pills Sold
The pharmacy is selling a good range of medications, with the men's health market very well covered. Most of the pills they are selling seem to be generic, and their prices are fairly reasonable though a long way from the cheapest. You can also choose the following categories among others:
Obesity

Vitamins

Respiratory tract

Hypertension

Antibiotics
Looking at the product pages on the pharmacy site shows that some of the information they should be providing isn't available. They do give the names of some companies who might have manufactured the generic pills they sell, but they don't narrow it down.
They also don't say where the pills are dispensed from. This rather leaves us in the dark and increases the likelihood that this pharmacy could be a scam.

It makes it more likely that the pills being sold are low-quality and unreliable. Instead of pills you need to cure your medical condition, you could end up with medicine that actually makes your situation worse.
Low-quality medicines are potentially a very serious problem as they might contain the wrong ingredients. But even if they do have the correct ingredients, who's to say they have the correct amounts as they claim on the packaging. And since there is no way of telling just by looking at them, you need to be very careful where you purchase from.
Payment Options
Payment for your medications occurs on another website but does have some level of security protection. You can pay with the following options:

American Express

Visa

MasterCard

Bitcoin
Shipping
When you choose to buy from this pharmacy you are given two options for delivery. They have their standard airmail service that will cost $10, and a courier delivery that includes tracking costing three times that amount.
The $30 service does promise faster delivery at around 5 to 9 days, with airmail taking 2 or 3 weeks. But airmail is free when you spend more than $150, though there aren't any discounts for using courier delivery.
MedsAllAroundtheWorld.com Reviews
The pharmacy does have a link on their website to a testimonials page for MedsAllAroundtheWorld.com reviews. However, when you click the link very little happens, and you remain on the same page.
It isn't a good sign to find that links within the website's own pages are broken. Though even if they had worked correctly and we would have been taken to a testimonial page, we doubt the customer comments there would have been genuine anyway.

We haven't been able to find any customer comments anywhere online for this pharmacy.
Conclusion
While you might see this pharmacy as a good place to purchase your medicines for less money, it actually provides more risks than you might first realize. The pharmacy does not have the correct or any regulatory approval, they are keeping quiet about where they are located, that we don't know where the pills are from.
All of these issues mean that using this pharmacy for your medical needs is going to be very risky.