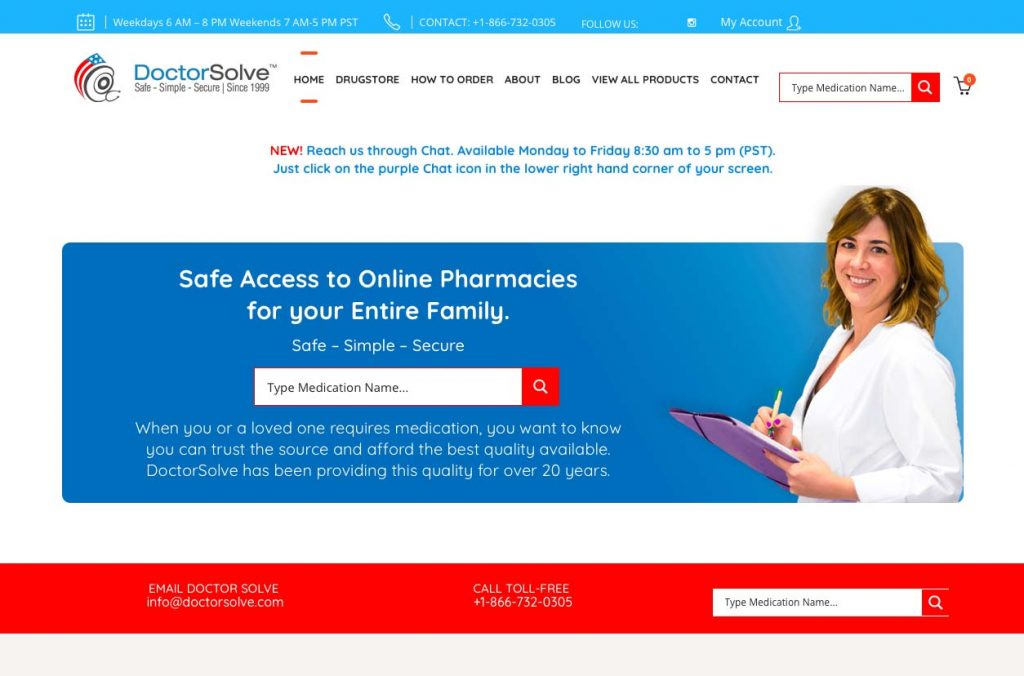 DoctorSolve.com is a drugstore that claims they have been in business for many years. They say that they meet, and in fact, surpass North American privacy regulations. Though this is all great, should you choose them?
Domain Details
Date of Registry
1999-04-21
Country
Canada
Main Details

Drugstore Name
Doctor Solve
Address
Regulatory Approvals
LegitScript
Unapproved status
CIPA
✔
Other
✔
Contact Info
Free Number
+1-866-732-0305
+1-604-598-4690
Contact Form
✔
E-mail

[email protected]

Shipping Methods
Standard Mail
✔
Express Delivery
✖
Free Shipping
✖
Payment Options
Card
✔
E-Check or Personal Check
✔
American Express, Western Union
✔
Domain Name Information
Domain name information for this pharmacy shows that they've been in business for a very long time. Their website address was originally registered in 1999, which makes it very likely that this is going to be a legit pharmacy.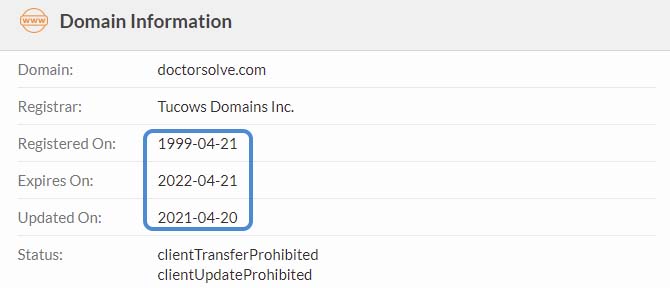 While there is an address in the domain name records, it isn't for the owner of this pharmacy. Instead, it is the address of a privacy service that is used to hide the details of the owner of the website. Though this can often look suspicious, privacy services like this are frequently used by reputable businesses as well as the less reputable ones.
Business Profile
There is a contact address on the pharmacy site. This is generally a good thing to discover, though addresses like this aren't necessarily always what they initially appear to be.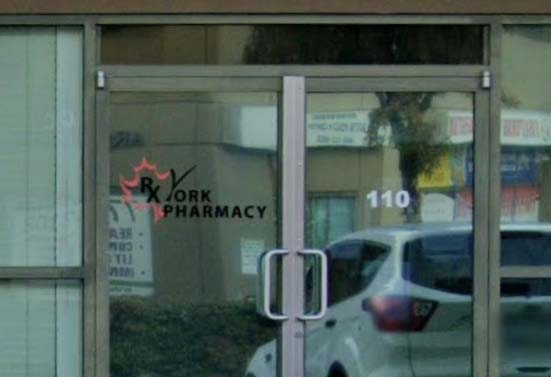 When we check this address, it looks like a fairly nondescript office. There is a pharmacy next door, called Rx York Pharmacy, that we have seen linked to other online drugstores.
Regulatory Approval
Doctor Solve is located in Canada, so they should have approval from Canadian regulatory authorities, and we can see that they do. Their membership to the Certified Canadian International Pharmacy program or CIPA is valid and shows that they are doing the things they should in order to keep their customers safe.

When we look to LegitScript we find that their service has been reviewed, and they consider the pharmacy to be unapproved.

While this no doubt doesn't sound particularly good, it isn't as bad as it could be. If they do not consider the pharmacy to be legit, they will give them a rating of rogue, showing that they do not meet the required standards to sell meds safely.
Treatments Sold
This pharmacy sells prescription as well as over-the-counter medications. They provide generic as well as brand-name pills, offering a wide selection of medications that you would normally find in a high street pharmacy.

As well as sourcing your medication from Canada, this pharmacy works with other international drugstores to supply meds to do their customers. This means that your pharmacy product may not actually be sent from Canada despite this being a Canadian drugstore.
This means that if you purchase from this Canadian website your medications could be shipped from India, Turkey, Mauritius, New Zealand, the UK, or the USA.
They don't seem to tell you in advance on the product page when you make a purchase about where your medications are going to be coming from. This could be a problem as it will affect the delivery time for your meds and that might be quite a crucial concern.
Payment and shipping Methods
This pharmacy site is secure with a valid SSL certificate, and you can pay with the following: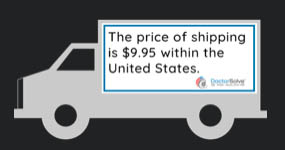 American Express

Echecks

Personal checks

Certified checks

International money orders
If you have health insurance, however, you can't use that as a payment method directly, though you might be able to claim from your insurer later on.
This pharmacy only ships to the United States and Puerto Rico. They charge a fee of $9.95 per order though there might be additional shipping costs in some circumstances. They say that you can expect delivery of your medication to take between 2 and 4 weeks.
DoctorSolve.com Reviews
It has been surprisingly difficult to find any DoctorSolve.com reviews. The pharmacy doesn't display any testimonials on their site, and we were only able to find a single customer comment on social media.

The comment we did find wasn't from a happy customer either. That customer on Facebook had a very unhappy time, with money being taken from his account and not receiving his medications over 2 months later.
Given that this was the only customer feedback we were able to locate, it doesn't exactly look great for this pharmacy.
Conclusion
There are many reasons to recommend this pharmacy, but it isn't without its problems. While they do have regulation as they should have, the meds could be sent from a country you don't expect.
They also give you an address, but there isn't much customer feedback to be found to show that they are operating reliably.