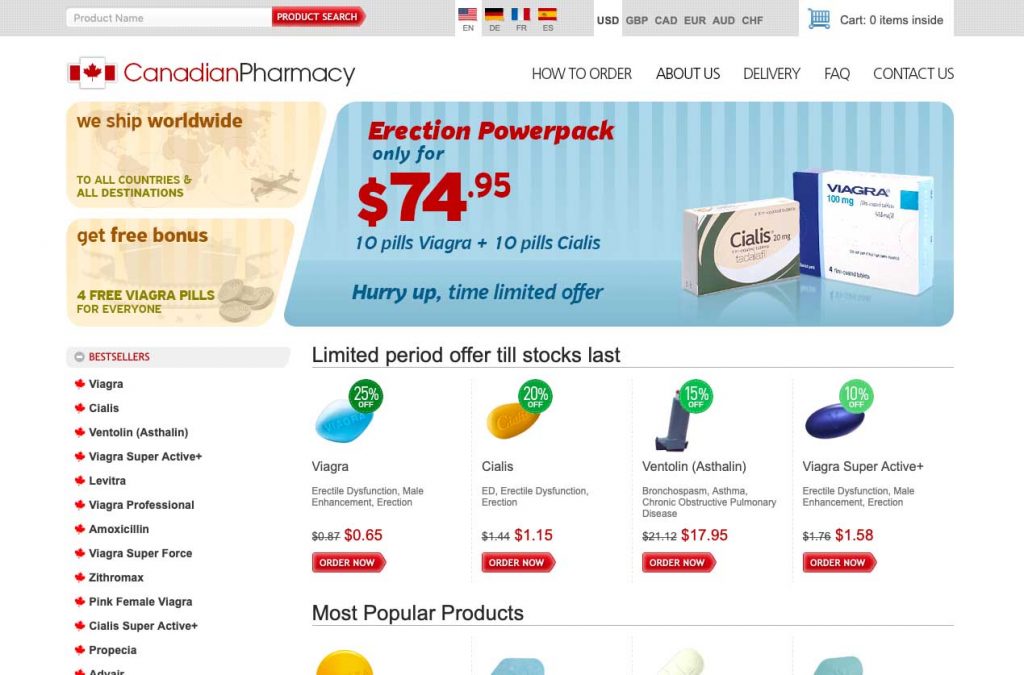 Myhealthmedcare.com is an online drugstore, whose bestsellers happen to be male supplements although the drugstore website also sells a wide number of other types of drugs. This pharmaceutical website is available in four languages, these languages are English, German, French, and Spanish. Apart from that, there are six currencies that are available for customers to choose from which may help users save money from currency exchanges. We are going to be sharing our findings of this online pharmacy in this article so that you can accurately decide whether this e-commerce platform is worth the risk. 
| | |
| --- | --- |
| Domain Details | |
| Date of Registry | 2014-12-17 |
| Country | China |
| Main Details | |
| Drugstore Name | Canadian Pharmacy |
| Address | Unknown |
| Regulatory Approvals | |
| LegitScript | Rogue status |
| CIPA | ✖ |
| Other | ✖ |
| Contact Info | |
| Free Number | ✖ |
| Contact Form | ✔ |
| E-mail | ✖ |
| Shipping Methods | |
| Standard Mail | ✔ |
| Express Delivery | ✔ |
| Free Shipping | ✔ |
| Payment Options | |
| Card | ✔ |
| E-Check or Personal Check | ✔ |
| American Express, Western Union | ✖ |
Domain Info
The domain of this e-commerce drugstore was first registered on the 17th of December 2014, this domain was updated a few years later on the 3rd of September 2020. To add to this, this online drugstore was set to expire on the 17th of December 2021.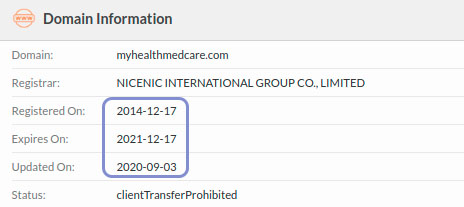 On the 'About Us' page, it says that the company behind this e-pharmacy was founded in 2002 with the online shop being launched in 2005 however this does not correlate with the information that is verifiable. 
Business Profile
Additionally, this e-pharmacy is registered through a third-party company called Domain Privacy which according to public databases is an organization located in the city of Hong Kong in China. 
On Scamadviser, this e-pharmacy has a trust score of 70% with a label that says 'this website may be risky'.
Regulatory Approval
Moreover, on this e-commerce pharmacy in the footer area, there are badges for organizations such as CIPA and the BBB known as the Better Business Bureau. When we checked, we found that this online drugstore is not approved by any of them. To add to this, this online pharmacy is not registered with other regulatory bodies such as CIPA and MIPA.

On LegitScript, this e-commerce pharmacy is labeled as 'rogue' due to a lack of evidence that is approved by any leading regulatory agencies. 
Products and Pricing
Apart from medication for human consumption, there are also a few drugs available here that help with the ailments of your pets for conditions such as inflammation. 
Best-Selling Products on This Platform
There are also special offers available on this online drugstore known as 'powerpacks' where you can purchase different drugs of the same category at a lower than usual price.
Cancer

, a number of different cancer drugs are available here, one of those medical products works by limiting the production of the estrogen hormone which makes fighting breast cancer more effective.

Eye Care

, eye drops as well as pill-based medication can be found here which help to keep your eyes healthy and prevent them from becoming affected by infections and other eye-related illnesses.

Stop Smoking

, a receptor blocker is available for sale here as well as another drug that helps to curb the urges that smokers feel when trying to give up their addiction.

Stomach

, many of the health conditions that affect your stomach such as gastroesophageal reflux disease also known simply as GERD which leads to a symptom commonly known as heartburn which occurs due to the stomach acid when this acid enters the tube that brings down the food into your stomach.

Mental Health/Epilepsy

, in this product category, visitors can find medication for a wide variety of mental illnesses such as schizophrenia, Parkinson's disease, and of course epilepsy. 
Payment and Shipping
There are three ways to pay on this e-commerce platform, first, you have credit cards however there is no information about exactly which credit card companies are supported. Additionally, customers can pay using checks and also the cryptocurrency Bitcoin, the last payment method comes with major fraud risks.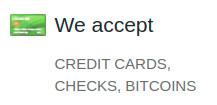 As for shipping, there are two options for customers, first, there is Regular Airmail Delivery which on average takes between 3 and 6 weeks. Alternatively, there is the more expensive Express shipping that tends to take on average from 2 to 4 weeks. 
Customer Reviews
We were not able to find any reviews on independent websites, this shows two things. First that this drugstore website is not very popular and also that there is no evidence of real satisfied customers of this pharmaceutical platform. 

On the other hand, there are testimonials located at the bottom of this online drugstore, these testimonials are not trustworthy as they are located on the exact same e-commerce platform that they are supposed to be reviewed objectively.
Is it a Scam or Legit?
This e-pharmacy is a scam, this pharmaceutical website is not approved by any regulatory agencies which is required by law. It also breaks the law in other ways such as by not being transparent about where it is based. The drugstore website presents itself as being a Canadian pharmacy website when in reality it is located in Hong Kong, China.
On URL Void, there are no warnings present about this e-pharmacy, although this online drugstore is not very popular so there is a chance that it may yet to be reported. 
Conclusion
To conclude, Myhealthmedcare.com is a good-looking website but not a safe one. Without a doubt, this e-commerce website is involved in fraudulent activity, the owners have chosen to hide behind anonymity which is illegal for owners of an online drugstore to do.