Real-Price-Store.com presents itself as an online pharmacy offering a range of medications, with a particular focus on products aimed at men's health. However, initial observations raise concerns, such as the incorrect display of phone numbers despite the site's claim of round-the-clock customer service. This review aims to delve deeper into these and other issues, providing a comprehensive analysis to help potential consumers determine the safety and legitimacy of using Real-price-store.com for their pharmaceutical needs.
| | |
| --- | --- |
| Domain Details | |
| Date of Registry | 2023-04-10 |
| Country | Ukraine |
| Main Details | |
| Drugstore Name | Online Pharmacy |
| Address | ✖ |
| Regulatory Approvals | |
| LegitScript | Not in the database |
| CIPA | ✖ |
| Other | ✖ |
| Contact Info | |
| Free Number | +1-888-524-7141 |
| Contact Form | ✔ |
| E-mail | ✖ |
| Shipping Methods | |
| Standard Mail | ✔ |
| Express Delivery | ✔ |
| Free Shipping | ✔ |
| Payment Options | |
| Card | ✔ |
| E-Check or Personal Check | ✖ |
| American Express, Western Union | ✖ |
Domain Information
The domain for Real-price-store.com was initially registered on 10-04-2023 and had an expiration date set for 10-04-2024, signifying a relatively short operational history of five months. Further stirring concern is the domain's registration in Ukraine, a detail that may give potential users pause.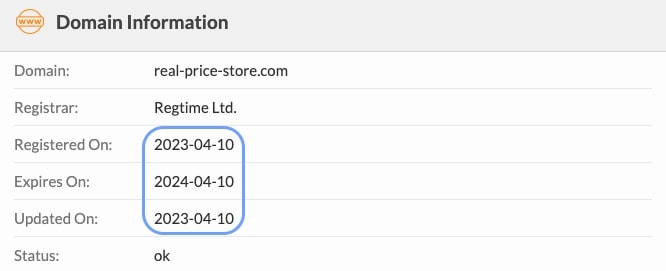 Additionally, specifics regarding the entity behind the domain registration are conspicuously absent. These factors collectively serve as warning signs, suggesting that users should proceed with caution. A more exhaustive investigation is essential to conclusively determine the safety and legitimacy of this online pharmacy.
Domain registered on: 10-04-2023
Address provided: Kyiv, Ukraine
Phone number: +380.638728390
Business Profile
Despite operating for a period of five months, the business profile of Real-price-store.com raises significant concerns. A search on review platforms like ScamAdviser.com reveals a disconcerting TrustScore of just 1/100, alongside a warning message advising caution due to the low website rating.

Additionally, the absence of customer reviews on TrustPilot.com suggests a limited online presence and a possible disregard for consumer feedback. These collective indicators serve as considerable warning signs, seriously questioning the online pharmacy's credibility and overall trustworthiness.
Regulatory Approvals
Beyond the alarming findings on ScamAdviser.com, Real-price-store.com's credibility is further questioned by its absence of recognition from crucial pharmaceutical regulatory authorities. Notably, respected agencies such as NABP, CIPA, and LegitScript.com do not recognize or endorse this online pharmacy. Such a lack of certifications from these pivotal entities cast further doubts on the site's legitimacy and the safety of its offerings.
Available Products and Pricing
Real-price-store.com showcases an extensive product lineup, encompassing categories like allergy, anti-viral, antidepressants, and antibiotics, among others. Prices on the platform range between $0.36 and $3, with certain medications flaunting discounts as high as 84%.

However, the absence of visible regulatory approvals is disconcerting. This lack of credentials raises concerns about the quality and safety of the medicines offered. Given these observations, there's a growing suspicion that Real-price-store.com might be an untrustworthy online pharmacy.
Payment and Shipping Methods
Real-price-store.com provides its customers with a selection of payment methods, like MasterCard, ACH, Diners Club, JCB, and more.
For shipping, the platform employs two primary methods. The Standard airmail delivery, which may take as long as 30 days for order arrival. Alternatively, they offer a Trackable Courier Service, delivering orders within a window of 10-21 days. Packages dispatched via this method are trackable through a provided number and ensure delivery within a maximum span of 30 days.
Real-price-store.com Reviews
Real-price-store.com lacks any discernible customer reviews on independent platforms such as TrustPilot.com. The website does have its own testimonial section, which predominantly showcases positive feedback.
However, given that these reviews are housed directly on the website, their authenticity becomes questionable, as there's potential for them to be selectively chosen or even manufactured by the site administrators. The absence of objective, external reviews combined with exclusively favorable onsite testimonials cast doubt on the authenticity and trustworthiness of this online pharmacy.
Conclusion
Real-price-store.com, an online pharmacy presenting a broad spectrum of medications, manifests several concerning indicators. Its domain specifics, rooted in Ukraine with a limited operational timeline, combined with a concerning TrustScore of 1/100, pose significant doubts about its reliability. The pharmacy's absence from key pharmaceutical regulatory body listings and lack of external, objective customer reviews only amplify these concerns.
Although the website boasts an array of positive testimonials, their authenticity is debatable given their in-house nature. Given this plethora of warning signs, consumers are strongly advised to exercise utmost caution and consider more reputable and transparent alternatives for their pharmaceutical acquisitions.