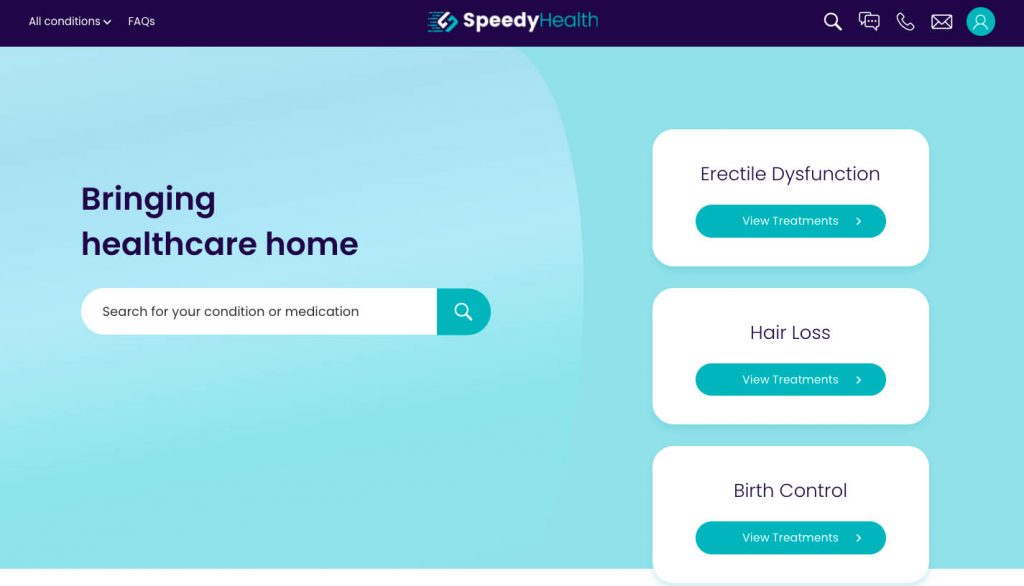 SpeedyHealth.com is designed to be an online doctor and is based in Los Angeles, California. According to them, patients are at the top of their priority. They claim to be authorized by US regulators and believe they are the best. Though, of course, those statements are natural elements of marketing, it still needs to be backed up with facts. Hence, we decided to make a Speedyhealthcom Reviews.
| | |
| --- | --- |
| Domain Details | |
| Date of Registry | 2003-03-03 |
| Country | United States or Great Britain |
| Main Details | |
| Drugstore Name | Speedy Health |
| Address | |
| Regulatory Approvals | |
| LegitScript | Not in the database |
| CIPA | ✖ |
| Other | ✖ |
| Contact Info | |
| Free Number | +1-844-551-3955 |
| Contact Form | ✔ |
| E-mail | ✔ |
| Shipping Methods | |
| Standard Mail | ✖ |
| Express Delivery | ✔ |
| Free Shipping | ✔ |
| Payment Options | |
| Card | ✔ |
| E-Check or Personal Check | ✖ |
| American Express, Western Union | ✖ |
Domain Info
Speedy Health Pharmacy is a distributor of medications located in California. They have experts and trained specialists to assist in every customer service. They also accept emails, phone calls and live chat. The pharmacy aims to deliver the most excellent care for customers.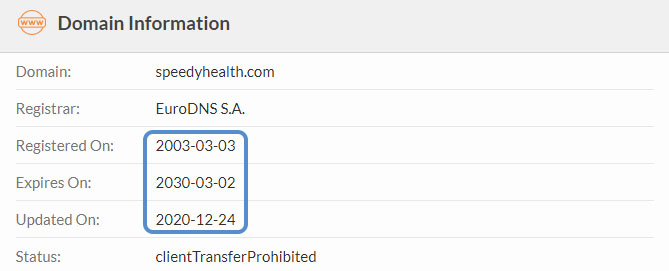 To assess the website, we need to know the domain information first. We learned that the website was registered on March 3, 2003, and will expire on the same day of March 2030. So, it's a long way to go, and they have proven a tremendous amount of experience. The domain will not be expiring anytime soon, so there is no problem with the domain.
Business Profile
Problems started to appear when we scanned the website of Scamadviser, an online evaluator of pharmacies. Speedy Health Pharmacy only got a 1/100 trust score which is the lowest grade you can get. Once a website gets this low score, it means that there have been a lot of negative feedback, testimonies and reviews from past customers.

On top of that, the website was allegedly reported to the NABP for not complying with the legal requirements to be an official contributor. That means that the pharmacy has been illegally selling medicines all this time. And you can't simply trust a pharmacy that the verifier itself reports.
Regulatory Approvals
Next is the regulatory approvals, where we will assess the pharmacy certifications, Speedy Health. So, upon assessing the website, certain logos are displayed, such as Pfizer, Merck, Abbott, Janssen, Lilly and Bayer – all of which are brands of certain medications. Supposedly though, the certifications and licenses are typically displayed on the page. But in the case of this pharmacy, no statement nor logo has been confirmed to give them approval in business.

Speedy Health Pharmacy is not certified on either CIPA or NABP, which are essential certifications for pharmacy. Not getting either one of them means that the website is not a legal medicine distributor.
Products and Pricing
Speedy Health Pharmacy's way of displaying its products is unlike others we've evaluated. Instead of displaying the medicines, they show the hyperlinked health conditions and redirect the customers to learn the treatments available. For instance, if you select the category "Hair loss", you will be redirected to the page where the condition is defined, and treatments are introduced.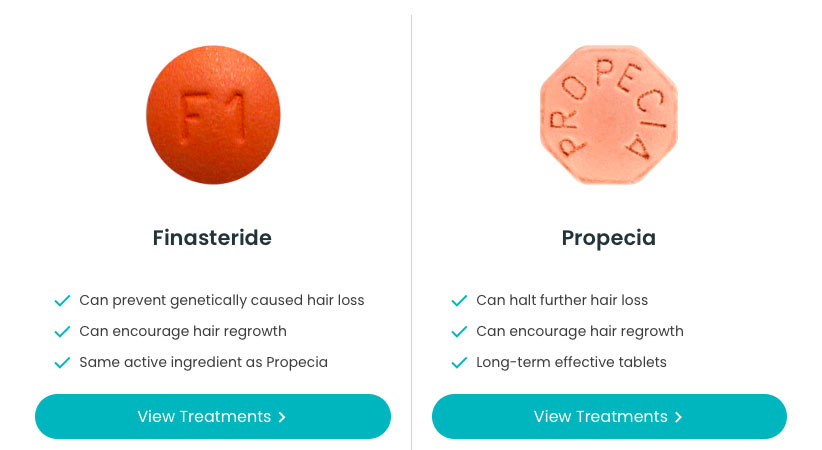 In the case of hair loss, the only medication they offer is Finasteride ($24) and Propecia ($24). Both have the same price, which is actually more expensive than other pharmacies. There would be no issue if they were legal contributors, but they aren't.
Payment and Shipping
Speedy Health Pharmacy accepts payments only from credit cards, but there are no specifications on which cards they offer. Since the website is not designed like the typical shops, finding its payment and shipping methods is more challenging unless you will surely buy. It's a tactic to ensure that customers will check out. But still, we learned that the website offers free delivery in Arizona. Others are not specified.

Speedyhealth.com Reviews
To know the views and opinions of past customers and critics, we need to seek help from MyWot and TrustPilot, which are both finders of testimonials.
In MyWot, we were able to detect three reviews about this pharmacy which all rated them one star. The majority believe Speedy Health Pharmacy is a scam and fake online drugstore. They also mentioned that the website doesn't have a permit to distributor medicines.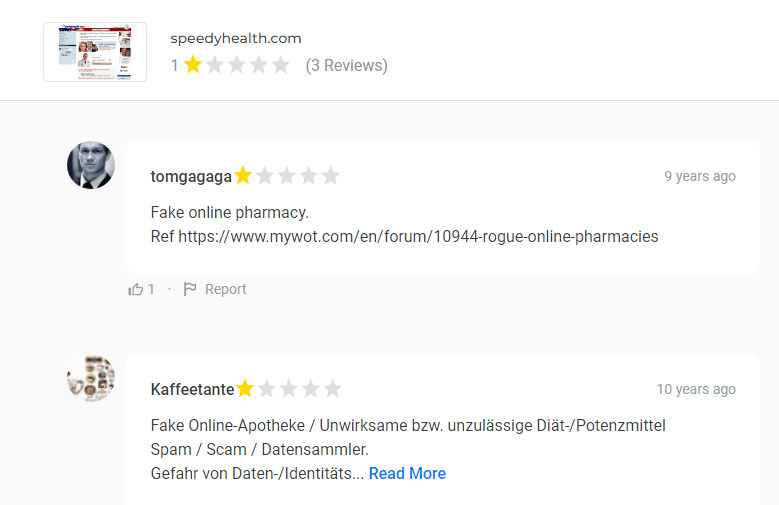 On the other hand, TrustPilot has no reviews displayed on the website.
Conclusion
First of all, being an experienced company in a field doesn't guarantee that it will be safe and legal. Speedy Health Pharmacy may have existed since 2003, but they have failed to comply with legal requirements to avoid becoming a scam. They don't have good reviews and explicit purposes either.