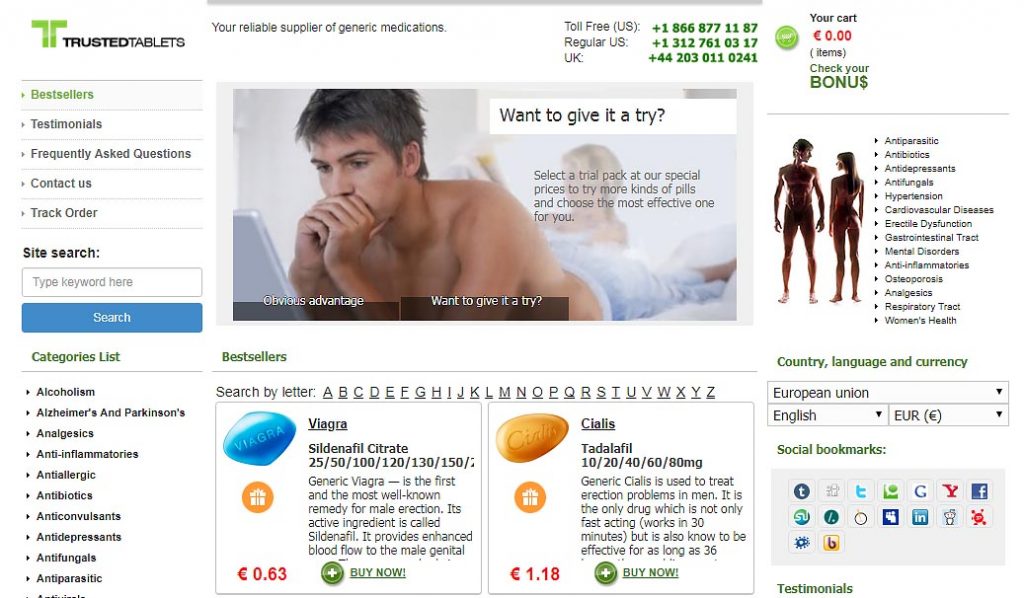 Tablets-Today.com claims to be a reliable supplier of medication with 12 years of experience. They also say that they are a leading online pharmacy. Our investigation into this store, however, finds major issues with the claims they are making and the service they offer.
| | |
| --- | --- |
| Domain Details | |
| Date of Registry | 2017-03-17 |
| Country | United States |
| Main Details | |
| Drugstore Name | Trusted Tablets |
| Address | Unknown |
| Regulatory Approvals | |
| LegitScript | Rogue Status |
| CIPA | ✖ |
| Other | ✖ |
| Contact Info | |
| Free Number | +1-866-877-11-87 |
| Contact Form | ✔ |
| E-mail | ✔ |
| Shipping Methods | |
| Standard Mail | ✔ |
| Express Delivery | ✔ |
| Free Shipping | ✔ |
| Payment Options | |
| Card | ✔ |
| E-Check or Personal Check | ✖ |
| American Express, Western Union | ✖ |
Domain Name Information
The domain name information about this website address tells us that it was registered in 2017. This isn't too long ago and could indicate that the store is more likely to be unreliable.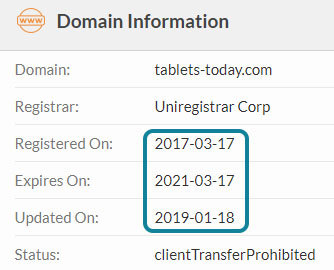 More positive is the fact that there is more than a year left to run on the registration. This shows that the owner has some confidence in the likelihood of the pharmacy being around for a while longer. Scam online pharmacies only normally register domains for a single year at a time because they don't expect to be trading for long.
Something else often found with scam pharmacy registrations is the use of a domain privacy service to hide the details of ownership. This store is using domain privacy from a business in the Cayman Islands.
Business Contact Details
No contact information is shown on the store's pages. This doesn't fill us with confidence about the reliability or the legitimacy of the business behind this pharmacy site.
A lack of business name and address is another thing which is frequently found with pharmacy sites that are likely to rip off their customers.
Regulatory Approvals
Trustworthy online pharmacies often display seals and logos from regulatory associations and governing bodies they are members of. This online store has a seal which says "Trusted Rx Approved".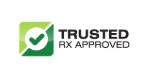 This isn't a seal that we are familiar with and a search for the regulatory association which gives it out doesn't produce any results. Since it is also not possible to click on this seal to find out more, we are left to assume that it doesn't belong to any regulatory association. This seems to be a graphic used by the pharmacy to make it appear like they are operating in accordance with rules, but it is actually fake.
When we look to LegitScript for their view we find that they have given the pharmacy their lowest rating. The rogue classification means that they believe the drugstore isn't following the rules for the countries they sell to and is in breach of the law.
Products Sold
This pharmacy sells a reasonable range of generic drugs. While the main sellers on the site seem to be men's health drugs they also offer:

Treatments for alcoholism

Analgesics

Antibiotics

Eye drops

Skincare creams

Arthritis meds
The prices are low, not the lowest we've seen, but low enough to leave the question of quality on the table. Low-quality pills are a significant problem and one which you need to avoid unless you like taking meds with the wrong levels of ingredients or no active ingredients at all.
Prescription Requirements
They do say that you need a prescription if it is required in your country of residence. This sounds like a bit of a cop-out and in reality, it is unlikely that they will ever demand a prescription no matter what you are ordering.
Bonuses
This store provides some bonuses to incentivize you to complete your purchase and come back again.
While this might appear to be great, there are some issues. If they are willing to give away up to 20 men's health pills it does rather suggest that the quality of the drugs isn't very high.
The 5 and 7 percent discounts for future orders, does suggest that they expect you to come back for more and makes them seem more reliable, which is the point. The confidence which these discounts may provide could be unwarranted. These discounts aren't much good, however, if your first order never arrives.
Payment and Shipping
The checkout page for this drugstore is secured with a certificate which is valid so that your information can't be intercepted. They offer a decent choice of payment options including:
American Express

Mastercard

Visa

JCB

Bitcoin
You are given the choice between express mail and airmail when you order pills from this pharmacy. Airmail can take 21 business days and costs $10. Express mail takes up to 9 business days, includes tracking and will cost you $30.
Reviews and testimonials
There is a page full of positive tablets-today.com reviews. However, it is rather obvious that these must be fake testimonials.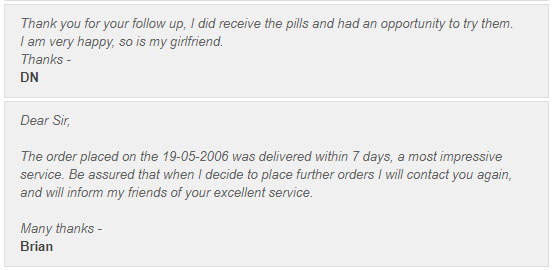 One of the comments gives an order date in 2006 and since we know this store has only been in business since 2017, these can, therefore, only be fake.
Conclusion
This pharmacy operates with no regulation, they have fake reviews, they are anonymous and the quality of pills is in question. Don't make the mistake of ordering from this drugstore.
Possible alternatives

---