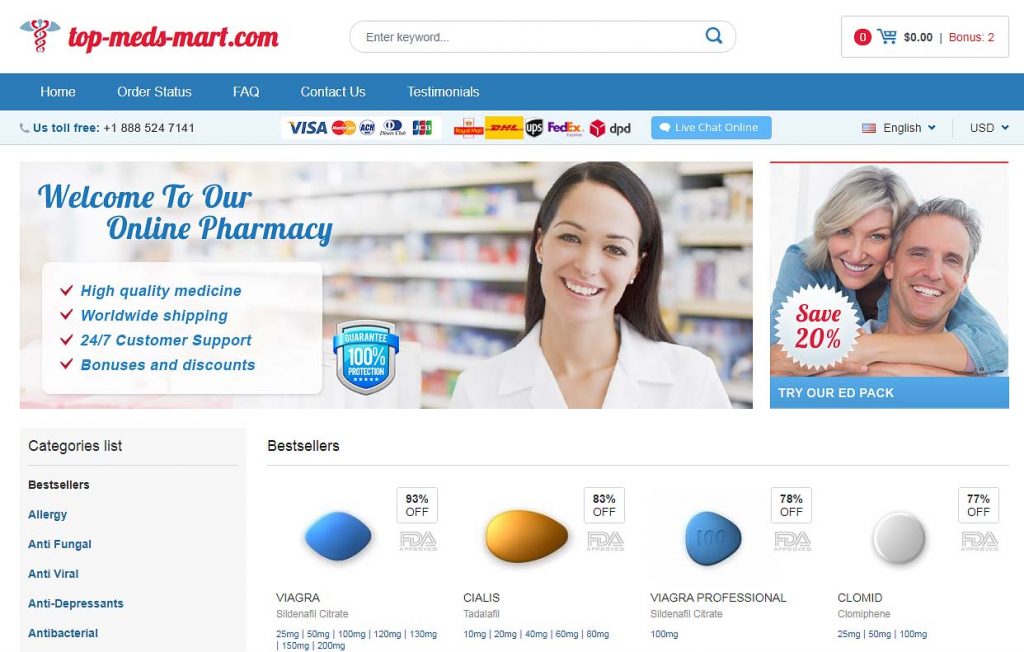 Top-Meds-Mart.com is a pharmacy store which promotes their ability to supply the best quality brand and generic pills to their customers. This is a store which appears to have a large number of good customer testimonials. We review what they are offering only to find one major problem after another.
Domain Details
Date of Registry
2019-01-08
Country
Pakistan
Main Details

Drugstore Name
top-meds-mart.com
Address
✖
Regulatory Approvals
LegitScript
Rogue Status
CIPA
✖
Other
✖
Contact Info
Free Number
+1-888-524-7141
Contact Form
✔
E-mail
✖
Shipping Methods
Standard Mail
✔
Express Delivery
✔
Free Shipping
for orders above $300 (Courier)
for orders over $200 (Airmail)
Payment Options
Card
✔
E-Check or Personal Check
✖
American Express, Western Union
✔
Domain Name Information
A check with the domain name records shows that this pharmacy address was registered using a Pakistani domain registrar and only for a year.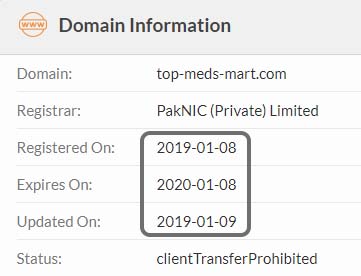 Neither of these things is particularly good to find. The short domain registration is something we frequently find with scam pharmacies and the link to Pakistan is also a concern.
There isn't any information in the records about who registered the domain name. Details are hidden under the GDPR rules and this leaves us unable to even confirm, for sure, which country the owner is located. Since it was registered using a Pakistani domain registration business, this naturally suggests that the real owner is in that country as well.
Business Profile
Things don't, unfortunately, become any clearer when we look for business information on the pharmacy site. It seems clear that the owner of this business doesn't want us to know, either who they are, or where in the world they are located.
Regulatory Approvals
Further concerns found on this pharmacy site include the lack of any indication of regulation. They don't display any regulatory seals which would show that they are operating their pharmacy in a way which will keep people's details secure. It also means that the pills may not be dispensed using high standards which could lead to a number of problems.

When we look at the findings of LegitScript we see that they have a problem with this pharmacy too. They give them their lowest rating of a rogue, which highlights how bad this store really is.
Medication Sold by this Pharmacy
This store seems to mostly be keen to promote men's health drugs on their pages. They even give some examples of this type of drug away with orders.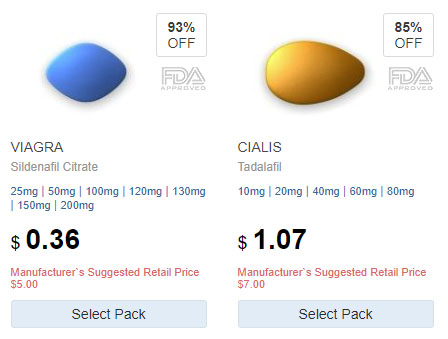 Following on from the previous problem found on this store with their lack of information about who operates this business, they also fail to tell us where the pills are dispatched from. This means we have no way of working out if they are being dispensed by properly licensed pharmacists.
This lack of information rather suggests that things aren't being done the way they should be. This means that the pills sold by this store are probably unsafe.
They also do not care if you have a valid prescription or not, either way, they will sell you whatever pills you want. This is another indication of a pharmacy which isn't operating safely.
Payment and Shipping
When you purchase via this pharmacy checkout system, you find that they send you to a different website to complete the purchase. This is something we find common with scam drugstores, however, they do have some security measures on this site and take payment using:
Credit cards

E-check

Bitcoin
Shipping is a choice of either Airmail or Courier. The airmail delivery is the cheaper option at $10, though this will take several weeks longer than the courier delivery. Courier also has the benefit of a tracking number being provided and is expected to take around a week. The courier delivery method costs $30, however.
Top-Meds-Mart.com Reviews
When checking the testimonial page of this store, a few things surprise us. Firstly, the page contains a huge number of very positive top-meds-mart.com reviews. While this would seem to be a good thing to find, in this case, it isn't. This store has only been online for less than a year and it is incredibly unlikely that they would have been able to accumulate anywhere near as many customer comments as we find here.

Other problems include the fact that all of the customer posts are dated before the pharmacy was even created. We have also found these very same comments on multiple other pharmacy sites.
These customer comments are completely fake. They are trying to pretend that they are a successful drugstore with lots of customers when it is complete nonsense.
Conclusion
It is difficult to find anything good to say about this pharmacy. They lack any regulation and they are hiding, not only, who they are but also where the drugs are dispensed from. They are using fake customer feedback to try to convince you that they are legitimate.
Possible alternatives

---