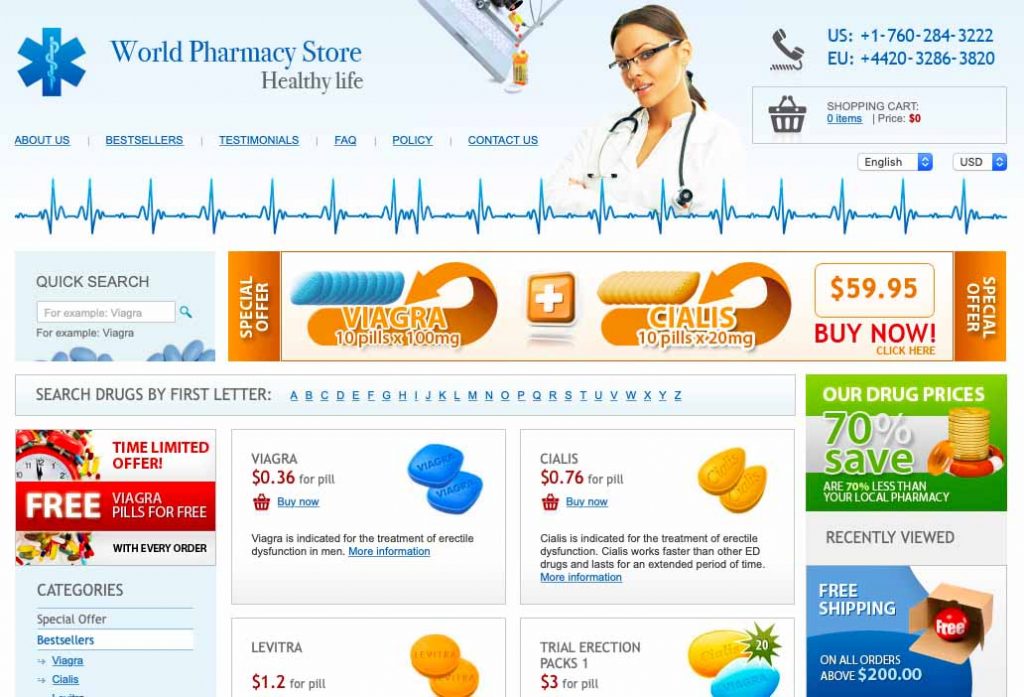 1001Pills.com is a pharmacy that seems to be offering a lot of great offers to customers. But are they going to be reliable? Our investigation into what they are doing suggests that they won't be.
Domain Details
Date of Registry
2018-11-14
Country
Russia
Main Details

Drugstore Name
World Pharmacy Store
Address
Unknown
Regulatory Approvals
LegitScript
Rogue status
CIPA
✖
Other
✖
Contact Info
Free Number
+1-760-284-3222
+4420-3286-3820
Contact Form
✔
E-mail
✖
Shipping Methods
Standard Mail
✔
Express Delivery
✔
Free Shipping
✔
Payment Options
Card
✔
E-Check or Personal Check
✖
American Express, Western Union
✖
Domain Name Information
Searching for the domain name information for this pharmacy shows that they haven't been in business for all that long. The pharmacy site's address has only been registered for less than 3 years, and this could indicate that they are more likely to be a scam.

Some information is provided in the database about the ownership of this pharmacy. This reveals to us that the pharmacy is owned by a private individual who is located in St Petersburg, Russia.
Business Profile
The address details discovered in the domain name database are not repeated on the pharmacy site itself, however. While this pharmacy claims to be operating worldwide, they don't seem keen to let their customers know where they are located.
This increases the chances that this pharmacy is a scam, that is looking to sell low-quality medications to its customers.
Regulatory Approval
The pharmacy displays some regulatory seals on its pages. While this is normally a good thing to find, we do find a problem here.
You cannot click on the pharmacy seals to confirm they are genuine, so they do not link to the association that has issued them. This is something that happens a lot with pharmacies that are fraudulently using regulatory seals to make themselves look trustworthy.
The other problem is that two of these pharmacy seals are for Canadian regulatory associations. As we have previously shown, this pharmacy is actually located in Russia and not Canada.

Looking to the findings of LegitScript, we can see that they also have problems with this pharmacy. They have classified this drugstore as a rogue, meaning it doesn't have the correct regulatory approval to be operating and selling pills in the United States.
Medications on Offer
The pharmacy is selling both brand and generic drugs. There seems to be more of a focus on generic pills as well as servicing the men's health market.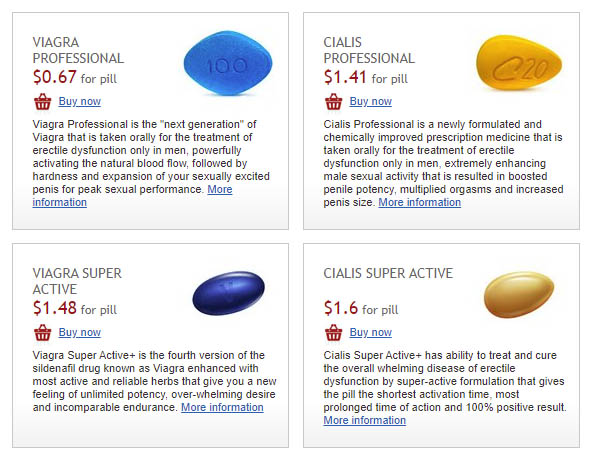 Prices are low on the pharmacy, but this isn't always a good thing to discover. It could mean that the medications are low-quality and manufactured by unreliable pharmaceutical companies.
If you order from the store, you might find that the medications you received look correct, however, you can't really tell if they are good just by looking at them. It could be the case that the medications contain far more of the active ingredient than they should do or less, there is simply no way of knowing.
Payment Methods
When you place an order with this pharmacy, you are sent to another secure website to complete the transaction. Here you can pay using the following:
Extra Bills
You will find that you are charged for extra items at this billing stage, however. There are extra charges for delivery insurance, and discrete packaging and processing. These are just under $5 each and are not mentioned on the pharmacy site.

Both of these extra expenses are something we would normally expect to be included within the costs of buying from the pharmacy. It is possible to opt out of these extra hidden charges if you check the small print.
Shipping
Shipping costs are $9.95 for airmail and $19.95 for EMS. If you don't mind a slow delivery time of 2 to 3 weeks, airmail might be the best choice. If you need your meds faster, EMS should get your pills to you within 3 to 8 days and does include tracking.
1001Pills.com Reviews and Testimonials
The pharmacy does have a page where they collate 1001Pills.com reviews, and this shows them to be by providing great service to their customers.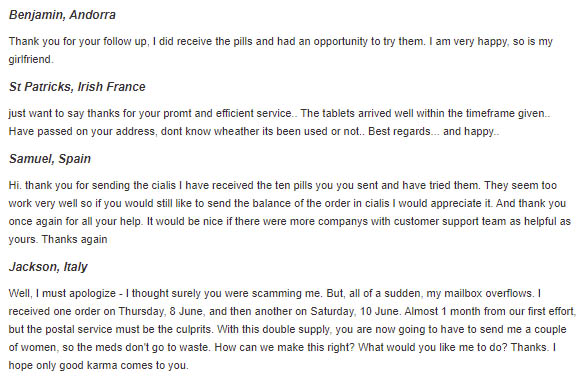 If you think this makes them look reliable, you would be wrong because these are fake. We have seen them many times before on other pharmacy stores and shouldn't be trusted.
Conclusion
We've found numerous problems with this drugstore that indicate the medications they sell might not be what you would expect. They are using fake regulatory accreditation, fake customer testimonials, so are the pills fake as well?
Choosing to purchase your medications from this scam store would be a mistake you could well regret.